Greece and its eurozone creditors were scrambling on Tuesday to see if there might be one last possibility to salvage the country's overall bailout program, which would otherwise expire at midnight in Brussels. But missing the I.M.F. payment was already a foregone conclusion — one confirmed Tuesday morning by the Greek finance minister, Yanis Varoufakis.
It was not clear when and in what form such a decision would be conveyed to I.M.F. officials. The I.M.F. was expected to comment only after the deadline passed on Tuesday.
Jacob Funk Kirkegaard, a senior fellow at the Peterson Institute for International Economics in Washington, said delinquency would put Greece in ignoble company.
"They are joining countries we would normally regard as failed and failing states," Mr. Kirkegaard said. "The symbolism is quite dramatic."
Greece would be the first developed country to miss an I.M.F. payment. And the missed payment would be the largest in fund's history. Sudan still owes about $1.4 billion from loans acquired in the 1980s, according to the fund.
Countries that have fallen behind more recently include Iraq, Bosnia and Afghanistan. All three later settled their obligations to the fund.
Unless there is a last-minute deal with creditors, Tuesday is also the last day that Greece is eligible for European Union aid totaling more than €16 billion from several different sources. Without an agreement with creditors on terms for future aid, Greece cannot get the money.
The last loan tranche from a bailout fund of €1.8 billion "will no longer be available for Greece" and a further €10.9 billion leftover from a bank rescue fund "will be canceled," leaders of the eurozone bailout fund said in a statement Tuesday.
The fund, based in Luxembourg and known as the European Stability Mechanism, oversees the European Financial Stability Facility that has managed the disbursement of €130.9 billion to Greece, representing the majority of the funds committed by the eurozone countries.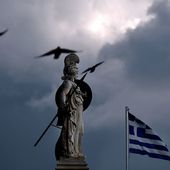 Greece Expects to Miss I.M.F. Payment, in Latest Distress Signal
FRANKFURT - Greece is expected late Tuesday to add its name to a roster that so far includes some of the world's poorest and worst governed nations, including Iraq, Sudan, Somalia and Zimbabwe ...
http://www.nytimes.com/2015/07/01/business/dealbook/greece-debt-imf-payment.html?_r=0