An unmanned cargo ship destined for the International Space Stationdisintegrated minutes after being launched from the Cape Canaveral Air Force Station in Florida on Sunday morning, NASA said, raising questions about how the agency and its partners will continue keeping the station supplied.
It was the third loss of a cargo ship headed to the space station in the past eight months.
However, NASA officials said they had prepared for such a mishap, and do not anticipate any major disruptions to the operations of the space station.
The countdown had proceeded without a hitch or worries about weather, and the 208-foot-tall Falcon 9 rocket, built by Space Exploration Technologies, better known as SpaceX, lifted off at 10:21 a.m.
But 2 minutes, 19 seconds later, just as George Diller, the commentator during a NASA television broadcast said, "Data coming back shows vehicle on course, on track," a white cloud emerged from the rocket's midsection. Moments later, a rain of debris started falling toward the Atlantic Ocean more than 20 miles below.
"We appear to have had a launch vehicle failure," Mr. Diller said.
Elon Musk, the chief executive of SpaceX, reported in a message on Twitter:
At an afternoon news conference, Gwynne Shotwell, SpaceX's president, confirmed that the problem appeared to have occurred in the second stage, but provided no additional details. "We're not going to speculate," she said. "We're not going to give information early only to have to pull it back and say: 'Nope, it wasn't that. It was something else.' "
In October, an Antares cargo rocket, built by Orbital ATK, exploded on the launching pad in Virginia. In April, a Russian Progress cargo rocketspun out of control, and was unable to reach the space station.
"There's really no commonality across these three events other than the fact that it's space, and it's difficult to go fly," said William H. Gerstenmaier, NASA's associate administrator for human exploration and operations. "We're essentially operating systems at the edge of their ability to perform and operate."
The failure does not put the three astronauts on the space station — Scott J. Kelly of NASA and two Russians, Gennady Padalka and Mikhail Kornienko — in any immediate danger. Space station managers try to keep six months of supplies on the station to weather setbacks. Even after the three mishaps, the station has enough food and water to last until late October.
"Over all, we're in very good shape on orbit," said Michael T. Suffredini, NASA's space station program manager.
Russian engineers believe they have solved the Progress problem, and the next launching is scheduled for Friday. "They've essentially replaced the third stage of the rocket with an older configuration that has flown with Progress before," Mr. Gerstenmaier said.
The scheduled launching of three astronauts on July 23, to bring the station crew back up to six, is not expected to be delayed. Mr. Gerstenmaier said a full crew was needed to avoid interrupting science research on the station.
Advertisement
Advertisement
"There's not enough crew members on orbit with enough hours in the day to actually do the research we've got there," he said. "We're in space to do something, and that's to do research."
Orbital ATK is aiming to resume its cargo missions near the end of this year, although Mr. Gerstenmaier said that could be moved up as early as October. A Japanese cargo spaceship is scheduled for August.
The lost SpaceX rocket carried more than 4,000 pounds of payload. Included were experiments, a replacement spacesuit, a camera to record meteors streaking into Earth's atmosphere and the first of two docking adapters that would serve as parking spots for future crew capsules being developed by Boeing and SpaceX.
NASA had planned to install two capsule parking spaces, but one would suffice, Mr. Suffredini said.
Until now, SpaceX had a charmed record with the Falcon 9, avoiding the "infant mortality" that usually afflicts new rocket designs, with 18 successes in 18 launchings.
For the 19th launching, more attention was paid to the company's attempts to land the first stage on a floating platform in the Atlantic. The company has invested considerable effort toward recovering and ultimately reusing the first stages in the hope of significantly cutting the cost of rocket launchings.
Now the company will need to regroup, a process that most likely will take several months but less than a year, Ms. Shotwell said.
"We must find this cause of the failure," she said. "We must fix it, and obviously we're going to get back to flight. It's a reminder — it's not a great reminder, but it is a reminder nonetheless — of how difficult this is."
Mr. Gerstenmaier said the mishap also emphasized the need for full financing of the Boeing and SpaceX crew capsules, which are to start taking astronauts to the space station in 2017. The Obama administration requested $1.2 billion for the 2016 fiscal year for the program, known as commercial crew, but a budget bill passed by the House of Representatives included $1 billion, and a budget bill in the Senate would provide even less: $900 million.
"If we don't get the funding, we can't do the technical work," Mr. Gerstenmaier said. "The technical work gets delayed or compressed. And this environment is not conducive to letting us compress or delay technical work."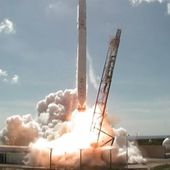 SpaceX Rocket Explodes After Launch to Space Station
An unmanned cargo ship destined for the International Space Station disintegrated minutes after being launched from the Cape Canaveral Air Force Station in Florida on Sunday morning, NASA said ...
http://www.nytimes.com/2015/06/29/science/space/spacex-rocket-explodes-during-launch.html