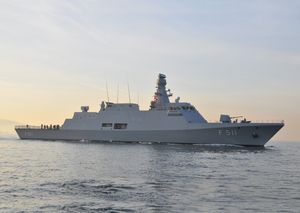 The most important event of the International Defense Industry Fair, organized in Istanbul May 5-8, was the signing of an agreement between Turkey's Undersecretariat for Defense Industry (SSM) with Turkish Sedef and Spanish Navantia for construction of a $1.2 billion landing platform dock (LPD) that has emerged as the prestige project of the Turkish navy.
This project has become the most expensive defense project to be attempted in Turkey.
The LPD is planned to be delivered to the Turkish navy in 2021. Mujdat Uludag, the director of the Naval Vessels Department of the SSM, said, "Our naval command will deploy the LPD that will be constructed in Turkey in operational areas of the Aegean, Black Sea and Mediterranean and when necessary in the Indian Ocean and the Atlantic."
This ship is designed to accommodate 1,450 persons and could sail for 50 days without resupply at 22-knot speed. The LPD, when needed, will be used for natural disaster relief with its fully equipped 34-bed hospital. The LPD, which will displace 27,436 tons fully laden with a length of 231 meters (757 feet), is the biggest naval platform of the Turkish navy. At the request of the navy command, a ski jump will installed on the LPD. This will enable Turkey to acquire 15 F-35B (short takeoff, vertical landing) aircraft as part of 100 F-35s it plans to purchase.
Although Turkish news media has been describing the LPD as an aircraft carrier, experts say it will have facilities and capabilities beyond those of a carrier. Expert Devrim Yaylali, who knows the Turkish navy well, told Al-Monitor that this platform, although it will not carry as many planes as a regular aircraft carrier, will nevertheless have its own fighter plane component.
But, distinct from a carrier, it will be able to deploy combat troops, their weapons, ammunition, main battle tanks and other vehicles to crisis zones and will take part in landing operations with the landing ships it will carry in its pool.
Yaylali said, "This capability will boost force redeployment capability of the Turkish navy phenomenally." Yaylali also noted that there could well be other uses of the platform in areas of Turkey's interests.
"In addition to its military uses, this ship will be useful in operations other than war. For example, in 2011 when the civil war broke out in Libya, scores of civilian and military vessels were mobilized to evacuate more than 20,000 Turks working in that country and these vessels had to make many risky trips. If we had had a platform vessel we could have evacuated our citizens faster with fewer trips and with less exposure to risks.
"Moreover, the armed helicopters or combat aircraft based on the LPD could have provided protection to the evacuees from the air. Or, in 2004, when Turkey decided to send assistance to Indonesia after the Aceh tsunami, we could have sent more relief supplies and delivered them to the victims from the air and the sea. The medical facilities of the LPD could have provided essential medical assistance to suffering civilians."
From Yaylali's remarks, it seems that the capabilities offered by the LPD will make it an important instrument of foreign policy that will accentuate Turkey's soft power beyond its military prowess.
The project is supported enthusiastically not only by the Turkish navy but also by President Recep Tayyip Erdogan and other Justice and Development Party (AKP) politicians. There are actually rumors that the ceremony to sign the agreement for the LPD was hastily moved up to this year's defense industry fair under pressure from Erdogan. In short, the project has become a prominent prestige military-security project for the Turkish navy and an internal and external foreign policy tool for AKP leaders.
Turkish Navy Outlines 2033 Vision (excerpt)
Turkish Navy Outlines 2033 Vision (excerpt) (Source Al Monitor; published May 21, 2015) By Metin Gurcan Turkey has embarked on an ambitious national shipbuilding plan whose first concrete result is
http://www.defense-aerospace.com/articles-view/feature/5/163880/the-turkish-navy%E2%80%99s-future-lpd-and-its-%26quot%3Bvision-2033%26quot%3B.html