It feels like the set of a post-apocalyptic zombie movie.
Empty skyscrapers, many incomplete, overlook deserted streets. Newly planted flowers in a riverside park have no one to appreciate them. An entire city which plans to grow to about ten times the present floor space of London's Canary Wharf waiting for workers to fill its glass and steel towers.
Anywhere else in the world, you'd write it off as a white elephant: Creditors would be scrounging for a few cents on the dollar, developers going bust, government backers red faced. Not in China, where the northern port city of Tianjin's plan to build the nation's answer to Manhattan is pinning fresh hope on its new status as a free-trade zone and the upcoming connection of a high-speed rail line with Beijing.
Tianjin's government, which has bought assets from the investment vehicle behind much of the building, sold bonds this month as part of a Beijing-sponsored debt swap cobbled together to keep the economy humming. And while some, including MGM Resorts International, have scuttled their Tianjin plans, others including Country Garden Holdings Co., are speeding up work.
"I probably wouldn't have invested in it with my own money, but I wouldn't bet against the government," said Michael Hart, managing director at real-estate brokerage Jones Lang LaSalle Inc. in Tianjin. Hart, who has followed the project in the city's Yujiapu and Conch Bay districts for about seven years, said the rail link will invigorate its initial buildings, which the government will fill with anchor tenants, mostly state-owned companies.
Build First
If it comes off, Tianjin's Manhattan project will become the latest illustration of China's build-it-and-they-will-come approach to development. Pudong -- the futuristic financial center that sprang up on Shanghai's east bank in the 1990s -- also had its doubters. Occupancy rates in its central Lujiazui area are 97 percent and rents among the world's priciest.
"A 7 percent growth rate, like China's, means a lot of things that look strange today look less so tomorrow," David Carbon, managing director at DBS Group Holdings Ltd. for economic and currency research, wrote in a report this month. "Roads always go nowhere when you build them. It's what happens later that counts."
Next up for Tianjin is the August opening of the sea-shell-shaped railway station that'll be part of a 300,000-square-meter (3.2 million square-feet) transportation hub larger than New York's Grand Central. A ride to the existing downtown Tianjin area will take 15 minutes, while a high-speed train trip to Beijing will take 45 minutes, making Tianjin a cut-price alternative for businesses now in the over-crowded capital.
Phoenix Rising
Country Garden Holdings, one of the biggest Chinese property developers, is pressing ahead with its 1,200 room Phoenix Hotel in Conch Bay. "The market is improving," because of the free-trade zone status, said Ma Ziling, the company's investor relations director.
Tianjin Binhai New Area Construction & Investment Group Co. -- the government-backed group building the area's highways, bridges, tunnels and the high-speed rail station -- gets its revenue from selling those assets to the provincial government and plans its first U.S. dollar bond issue. Fitch Ratings rates the vehicle A-, citing the "strong likelihood of extraordinary support" from the municipality if needed.
Tianjin's government this month sold 13.2 billion yuan ($2.1 billion) in bonds at zero premium to central government debt, joining other provinces in taking advantage of a debt swap program designed by Beijing to keep infrastructure projects afloat. The funding fix sustains a cycle China can't afford to break.
'Fictional Collaterals'
"Yujiapu must keep building so that banks can create fictional collaterals with which to increase lines of credit to LGFV debtors," said Victor Shih, a professor at the University of California at San Diego who studies China's politics and finance. "China can prevent the bankruptcy of local LGFVs and developers by ordering banks to roll over loans. However, it would take a Stalinist relocation of businesses to Yujiapu to fully occupy the office towers there."
That's the challenge for a project slated to have more than 100 buildings with 16 million square-meters in floor space. Among the few buildings already complete and those set to be finished in the near future, the vacancy rate will be 60 to 70 percent, according to Billy Lo, General Manager of Cushman & Wakefield's Beijing office.
President Xi Jinping's plan to integrate Tianjin with Beijing and Hebei may help fill some buildings as central government offices are shifted out of the capital. Meanwhile, encouragement for logistics and leasing companies to register in Tianjin may channel private tenants to a few more.
'More Time'
But, even for the initial buildings, Lo expects it will take up to five years to fill them due to their remote location. "The government has been helping to attract business but still needs some time," he said.
Thanks to China's still largely state-led approach to development, time is something its leaders can provide.
"China's debt problem, while big in scale, is an asset-side problem," Fitch wrote in a report this month. "Moreover, it is primarily domestic in nature and denominated in local currency. This means the state has flexibility to pace the debt resolution framework at its discretion and in a manner that minimizes social instability."
Tianjin's dilemma is replicated across China: Policy makers want to create a modern, competition-based system, but first must clean up the debt hangover from past projects.
"China is moving from a lot of state domination through to a market-based economy," said Liu Li-Gang, Australia & New Zealand Banking Group Ltd. chief China economist in Hong Kong. But for the next ten years, "we will still see a lot of visible hand by the government."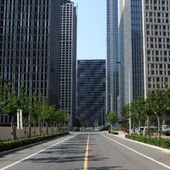 China's Manhattan Project Draws Plan to Defuse Time Bomb of Debt
It feels like the set of a post-apocalyptic zombie movie. Empty skyscrapers, many incomplete, overlook deserted streets. Newly planted flowers in a riverside park have no one to appreciate them. An
http://www.bloomberg.com/news/articles/2015-06-23/china-s-manhattan-project-draws-plan-to-defuse-time-bomb-of-debt