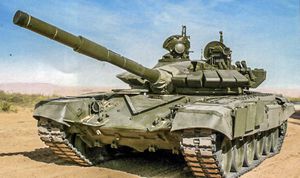 The T-72M1M DZ is an upgrade for existing T-72M1 developed for Algeria. Configuration of the tank is pretty much standard and based on available technology. A first prototype of the tank was using a SOSNA-U based fire control system, the PNK-4S based cupola and parts of the Shtora-1 defence system. The tanks was extensively tested and evaluated against other rivals, for instance the Tiger upgrade produced in South Africa.

While the evaluation of the FCS was meeting the customer's expectations, the final configuration of the tank is somewhat different. Most important improvement is still the usage of the SOSNA-U sight, introducing day channel, thermal sight and laser range finder. The TPD-K1 stays installed and acts as an emergency sight. The commander did not receive any upgrade to the cupola, but can view the image of the SOSNA-U thermal camera.

The protection of the tank was improved by adding Kontakt-5 modules to the turret front and flat T-90 style ERA panels to the side skirts. The hull front was not strengthened and did not receive any additional armour.

The T-72M1M DZ also received new tracks with removable rubber pads, which will help to reduce operational costs. It is also very likely that a new engine was added, but there is no confirmation.

Overall, the upgrade is incomplete. The important part is the fire control system including the thermal sight. But the commander is left alone without an independent sight. Same goes for the armour, which was improved at the turret only.