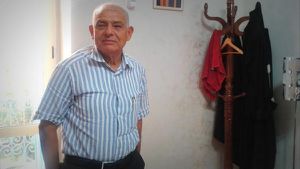 Algiers (AFP) - Algeria's former head of counter-terrorism is to appear in military court Thursday in the country's first trial of a high-ranking officer in the secret services, his lawyer said.
Abdelkader Ait-Ouarabi -- better known as General Hassan -- is accused of "destroying documents and disobeying military instructions," Mokrane Ait-Larbi told AFP on Monday.
The military court in second city Oran could not be reached for confirmation.
General Hassan had for two decades embodied the army's fight against Islamist groups.
He was forcibly retired at the orders of a military judge at the end of 2013 and placed under surveillance, then arrested in August.
Analysts interpreted his removal as President Abdelaziz Bouteflika consolidating his hold over intelligence services some considered a "parallel state" within Algeria.
In September, the president also replaced General Mohamed Mediene -- better known as General Toufik -- after 25 years at the head of the powerful DRS intelligence agency.
General Hassan's lawyer has asked for Mediene to appear in court as a witness.
If the 74-year-old did appear in court, it would be the first time Mediene -- dubbed the "God of Algeria" because of his longtime influence -- had appeared in public.