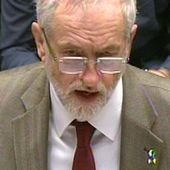 Shadow cabinet seriously split over Syria with Corbyn in minority
Jeremy Corbyn and Labour's shadow foreign secretary adopted sharply opposing views on UK military action against Islamic State hours after David Cameron argued it was time to extend bombing to ...
http://www.theguardian.com/politics/2015/nov/26/shadow-cabinet-seriously-split-over-syria-with-corbyn-in-minority
Jeremy Corbyn and the shadow foreign secretary, Hilary Benn, have adopted sharply opposing views on UK military action against Islamic State, hours after David Cameron argued it was time to extend bombing to Syria.
The Labour leader faced dissent in the shadow cabinet on Friday, with reports that most of the party's front bench were considering supporting the prime minister when the House of Commons votes on airstrikes against the Islamic State in Syria.
Corbyn wrote to his MPs on Thursday saying Cameron had failed earlier in the day to explain how an aerial campaign would protect UK security, setting up an intense debate in the party before an expected Commons vote next week to broaden RAF airstrikes from Iraq to Syria.
"I do not believe the prime minister's current proposal for airstrikes in Syria will protect our security and therefore cannot support it," Corbyn wrote.
The letter was met with surprise among the most senior Labour MPs, who were believed to have agreed to spend the weekend sounding out constituents on the issue before presenting their position next week. Emily Thornberry, shadow employment minister, said there was a "brutally honest" debate within the party and accepted that there would be a rebellion if a whip against airstrikes were imposed.
"I think that we have all agreed on a process, and the process is that there was a shadow cabinet meeting yesterday, we are then to go back to our constituents and ask them what they think," Thornberry told BBC Radio 4's Today programme on Friday.
"We have an open debate, and a brutally honest debate, going on within the Labour party," the shadow employment minister added. "I think there will always be divisions within the political parties – the Conservatives will have their divisions too.
"When it comes to an issue of war, it is something that people think very profoundly about. We do usually act collectively, but I think on issues like this there are times when people cannot stick to a whip which is imposed."
Corbyn's letter set the leader at odds with Benn, who had earlier told a meeting of the shadow cabinet that the arguments in favour of extending the airstrikes were "compelling".
The shadow foreign secretary, who believes that the prime minister has fulfilled the conditions laid down in a motion passed at the Labour conference on Syria, also contradicted Corbyn in public.
The prime minister, who was formally responding to a report by the commons foreign affairs select committee, which had opposed the airstrikes, told MPs: "We have to hit these terrorists in their heartlands right now: and we must not shirk our responsibility for security, or hand it to others. Throughout our history, the United Kingdom has stood up to defend our values and our way of life. We can, and we must, do so again."
Downing Street is planning to table a vote in the commons next week amid signs that the prime minister is assembling a majority. In a sign that a Tory rebellion will be smaller than expected, the chairman of the foreign affairs select committee, Crispin Blunt, who rebelled in a vote on military action in August 2013, signalled his support for the airstrikes. No 10 remains nervous about Labour's position but believes that enough MPs will defy Corbyn to neutralise any remaining Tory rebellion.
The French government took the unusual step of expressing the hope that the Royal Air Force "will soon be working side by side with their French counterparts" in taking military action in Syria.
In a sometimes emotional appeal, the French defence minister writes in the Guardian that UK military capabilities would "put additional and extreme pressure on the Isis terror network". Jean-Yves Le Drian said he wanted the RAF "to take the fight to the very heart of Isis, defeating it and making our countries and peoples safer".
French diplomats have been in touch with Labour frontbenchers to supplement this argument in private. The statement by the French is unlikely to move Corbyn, who unequivocally rejected the appeal by Cameron.
In his letter, Corbyn said: "In my view, the prime minister has been unable to explain the contribution of additional UK bombing to a comprehensive negotiated political settlement of the Syrian civil war, or its likely impact on the threat of terrorist attacks in the UK."
The Labour leader released his letter after he found himself in a minority at a meeting of the shadow cabinet, where he won the support of four shadow ministers. Corbyn was supported by Diane Abbott, Jon Trickett and Nia Griffith. John McDonnell, the shadow chancellor, did not speak but he supports the leader.
Corbyn's supporters said he was not isolated because many shadow ministers said they were conflicted over the airstrikes. But Benn was supported at the shadow cabinet meeting by Tom Watson, the deputy leader, the shadow lord chancellor Charles Falconer, Michael Dugher and Lucy Powell.
A number of shadow ministers believe that the shadow cabinet should impose a three-line whip in favour of military action. But Corbyn is likely to appeal to the PLP if, as expected, he fails to win consensus behind his position at a meeting of the shadow cabinet.
The leader's camp are also hoping that pressure from the Momentum group – the social movement which grew out of Corbyn's election – will persuade Labour MPs to back Corbyn on Syria at the meeting of the PLP. Corbyn believes that he enjoys greater support proportionally in the PLP than he does in the shadow cabinet.
If the two sides fail to reach agreement, there is a growing expectation that Corbyn will eventually agree to allow Labour MPs to have a free vote. A three-line whip to oppose military action would split the shadow cabinet and lead to resignations.