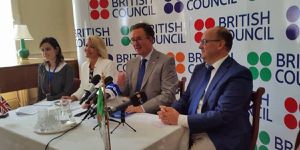 The Middle East and North Africa is the only region in the world to experience declining English proficiency, according to a new report by Education First (EF).
Sure, the UAE might be hitting it at a somewhat decent no. 42 in the ranking (still "low proficiency"), but generally, things are looking pretty grim for the MENA region when it comes to English skills. Most countries are found at the lower end, with Qatar, Kuwait, Iraq, Algeria, Saudi Arabia, and – finally – Libya located in the very bottom range.
The report claims it can reveal "a connection between countries' English levels and their innovation metrics such as countries' high-technology exports and expenditures on R&D."
It also notes a strong correlation between countries' English ability and Gross National Income per capita, quality of life, Internet connectivity, and a range of other indicators.
Ultimately, analysts behind the index predict a long road ahead: "Many of the countries in the region spend more per pupil than countries in Asia with similar levels of development, but this higher investment is not delivering better results. Jordan, Qatar, Tunisia, and the United Arab Emirates – the only countries in the region that participated in the 2012 OECD PISA testing­ – were all well below OECD averages in math, science, and reading, and three of them were among the six lowest-performing school systems in the study. In terms of English proficiency, both women and men are markedly behind global averages, and the gender gap in MENA is significantly wider than in any other region in the world."

The EF English Proficiency Index (EF EPI) is the world's largest ranking of countries by English skills and profiles 70 ranked countries, using test data from 910,000 adult English language learners.