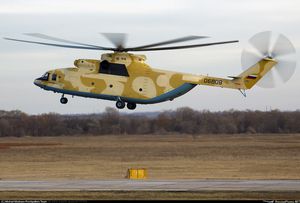 The contracts for the delivery of 14 heavy Helicopters Mi-26 are scheduled to be completed by the end of 2017 russian website aviaport.ru report citing "Rostvertol" (Two Mi-26T2 has transferred the Algerian side, two more will arrive before the end of 2015).
The first contract part of a deal worth $ 2.7 billion including 42 Mi-28 NE Night Hunter" and the second one for 8 machines, are the Mi-26 first international export success.
According to "Rostvertol" the algerian Mi-26T2 which have been in demonstrated in Algiers on test flights, has a crew of two pilots instead of three for others versions.
The machine has an integrated system of ground-based sensors, which is displayed on a separate MFD. The maximum take-off weight of the Mi-26T2 - 56 tons, the maximum speed - 295 km / h.