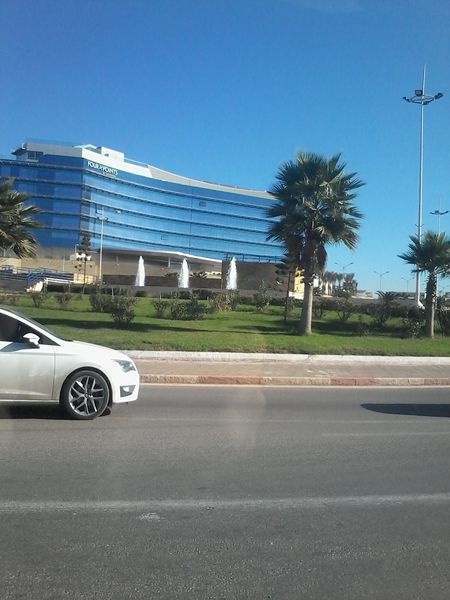 STAMFORD, Conn.--(BUSINESS WIRE)--POINT 1: Starwood Hotels & Resorts Worldwide, Inc. (NYSE:HOT) today announced the debut of the Four Points brand in Algeria, with the opening of Four Points by Sheraton Oran. A few minutes' drive from the airport, the hotel is conveniently located within a short distance of the city center with shops, restaurants, recreation and the famous Mohamed Benahmed Convention Center. Perfectly poised on the top of a cliff, it offers breathtaking views of the Mediterranean Sea. Four Points by Sheraton Oran marks Starwood's fourth hotel in Algeria and the third in Oran.
POINT 2: Owned by the Société d'investissement Hôtelière (SIH), Four Points by Sheraton Oran features 170 spacious and contemporary guest rooms, including 20 suites. Guests can enjoy cuisine from around the world at Le Cliff restaurant and coffee and classic favorites with panoramic sea views at Café Cosy. With five state-of-the-art meeting rooms and a ballroom that can welcome up to 350 guests, the hotel is ideal for business meetings as well as memorable banquets and weddings. A 24-hour fitness center, sauna, Hamam, Jacuzzi, a rooftop pool and a spa ensure guests can stay fit and relaxed during their stay. The hotel features all of the brand's defining elements, including Four Comfort Bed™ and free bottled water in all rooms and suites, fast and free Wi-Fi throughout the hotel and an energizing breakfast, helping guests start and end the day right. For booking information, please visit www.fourpoints.com/Oran.
POINT 3: "We are proud to debut the Four Points brand in Algeria with the opening of Four Points by Sheraton, Oran, adding to our rapidly expanding list of dynamic destinations across the globe," said Brian McGuinness, Global Brand Leader, Specialty Select Brands for Starwood. "With this opening, we are confident that Four Points will continue to reinvent travel across the globe with its emphasis on stylish comfort and genuine service."
"Oran is an evolving city with good potential for business travel. Four Points Oran is a significant addition to our thriving portfolio in Algeria and we hope this hotel with its great location and the value it offers will become the preferred choice of today's traveler" said Michael Wale, President, Starwood Hotels & Resorts, Europe, Africa and Middle East.
POINT 4: With its easy accessibility, convenient location, spectacular views, smart design and warm and comfortable service all at an affordable price point, Four Points by Sheraton Oran is indeed the ideal choice for travel that suits your style whether on business or on leisure.
Globally, Four Points by Sheraton is experiencing incredible growth momentum, having recently surpassed more than 200 operating hotels. With Starwood's largest and fastest growing pipeline, the brand is on track to expand by nearly 60% in the next five years.
About Four Points
Four Points is travel reinvented. With over 200 hotels in nearly 40 countries, Four Points meets the needs of the everyday traveler and offers guests exactly what they need on the road. Four Points combines timeless style and comfort and an authentic sense of the local as well as genuine, always-approachable service, all around the world. To learn more, visitwww.fourpoints.com/experience. Stay conne