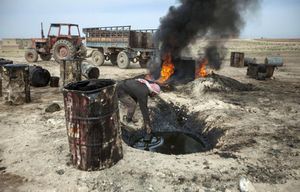 Oil smuggling is IS largest single source of continual income and one of the most important reasons for being able they have been to maintain their rule over their self-declared "caliphate" stretching across large parts of Syria and Iraq.
The Islamic State group is believed to be extracting about 30,000 barrels per day from Syria, smuggled to middlemen in neighboring Turkey. In Iraq, they produce around 10,000-20,000 barrels per day, mostly from two oilfields outside Mosul, Ibrahim Bahr al-Oloum, a member of Iraq's parliamentary energy committee and a former oil minister report, In total, the group is believed to make $40-$50 million a month from sales, the Iraqi officials said.How this industry that is financing the raging civil war can thrives without any complacent autority in the neighbouring countries including Iraq and Turkey?
Those buying the oil often wire the payments to female IS members in Istanbul and Ankara — on the presumption that women will draw less attention — and the money is later hand-carried into Iraq or Syria, said one of the officials, the head of one of Iraq's top counterterrorism agencies.