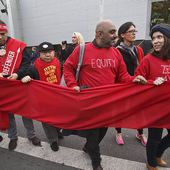 Final Draft of Global Climate Change Deal Is Complete
PARIS-The final draft of a global deal to tackle climate change has been completed "on substance" and will be presented to the 195 nations participating in negotiations here later Saturday ...
http://www.wsj.com/articles/final-draft-of-global-climate-change-deal-is-complete-1449906731
PARIS—The 195 nations participating in climate talks here will be handed what officials said will be the final draft of the deal to tackle global warming later Saturday.
They will then have to decide whether to approve an agreement that would for the first time expect all countries in the world—rich and poor—to take action to limit climate change. Ahead of the negotiations in Paris, 186 governments had made pledges on how to limit their greenhouse gas emissions in the coming decades.
If approved and successfully implemented, the new deal could transform the global economy, forcing businesses and citizens to sharply reduce their use of fossil fuels like oil, gas or coal. However, that would require governments to sharply step up their pledges to reduce emissions in the coming years, even before the deal would come into effect in 2020.
As talks entered their 13th day, some officials expressed optimism that the new proposal would be accepted—even if some additional changes were needed. The "draft is almost ready and it will be the deal," one European official said.
However, the official cautioned that there was no final confirmation from delegations that had problems with the previous proposal on whether they could accept the new version.
The proposal "probably needs tweaking still, but hopefully [it will be] finalized today," a second European official said.
An official involved in managing the negotiations over the draft said it remained to be seen how the new draft would be received, "but there's been intense consultations during the last day to ensure that it will carry through."
Oleg Shamanov, Russia's senior climate negotiator, said it was unclear whether the text would be acceptable to all nations.
"It's never known in these negotiations till the last minute," Mr. Shamanov said.
Overnight, negotiators were still wrestling with how developed nations will pay for developing nations to respond to climate change. Officials were seeking a compromise between poor nations, who were demanding assurances that the money would be available, and rich governments who were pushing wealthier developing countries such as China to pay part of the bill. They were also grappling with concerns from the U.S. about being required to provide financing, given the difficulties of passing spending legislation in the U.S. Congress.
"Everything comes back to the provision of finance, the predictability of finance, the scaling-up of finance," Nozipho Mxakato-Diseko, a South African official who is representing more than 100 developing nations in the talks, said Friday evening. "That's the test of this agreement."
The European official said the latest draft to be presented Saturday would have governments promise to mobilize at least $100 billion in annual climate financing for poor countries beyond 2020—using an existing pledge as a floor.
French Foreign Minister Laurent Fabius said Friday evening that he thought there would be a deal on Saturday. "The conditions have never been this favorable," he said.
Meanwhile, a group of climate scientists said Friday that the latest draft showed serious inconsistencies and would require much deeper cuts to emissions than currently foreseen, as negotiators continued to haggle over a final deal.
A draft released by Mr. Fabius on Thursday night eliminated many disagreements that had hobbled talks to that point, but left open how much financial help the world's poorest governments could expect to adjust to rising temperatures and whether developing countries would be required to measure and report emissions as accurately as rich states.
According to the latest published text, governments will commit to holding the average rise in global temperatures "well below" 2 degrees Celsius (3.6 degrees Fahrenheit) and "pursue efforts to limit the temperature increase to 1.5 °C."
That was a victory for some small island states, which say a 2-degree warming would result inrising seas swallowing their lands and depriving their citizens of their homes and livelihoods.
Yet a panel of five climate scientists—convened at the site of the Paris talks—said the rest of the draft agreement didn't back up that promise. To keep global temperatures from rising more than 1.5 degrees, man-made emissions of carbon dioxide would have to be reduced to zero by 2050, the scientists said.
"You cannot say we'll stay under 1.5 [degrees] on the one hand and not say anything on decarbonization on the other hand," saidSteffen Kalbekken, director at the Norway-based Centre for International Climate and Energy Policy. "Otherwise it is meaningless."
In contrast with earlier drafts, which included plans to cut global greenhouse gas emissions by up to 95% by 2050 from 2010 levels, the new text sees emissions peaking "as soon as possible," giving extra time to developing countries.
In the second half of the century, the world should reach "greenhouse gas emissions neutrality," the draft text says. That would mean cutting emissions to such a low level that they would be absorbed by the earth's natural mechanisms, such as plants or oceans, or new technologies such as carbon capture and storage.
"There is an inconsistency between near-term and long-term ambition," said Joeri Rogelj, a research scholar at the Energy Program of the International Institute for Applied Systems Analysis in Austria.
National pledges to limit greenhouse-gas emissions fall far short of reaching even the less ambitious goal in the draft text and would still see global temperatures rise by around 3 degrees from preindustrial levels, according to assessments from U.N. and other scientists.
The draft agreement foresees governments reassessing their emissions pledges every five years, but this review process doesn't start early enough, the scientists in Paris said. Under the draft, governments would evaluate their efforts in 2019—one year before the Paris deal is set to kick in—in a "facilitative dialogue." But the first full global stocktaking of emissions wouldn't happen until 2023.
By then, the scientists said, emissions will likely have surpassed the maximum allowed under any existing 1.5-degree scenario.
U.S. President Barack Obama spoke to Chinese President Xi Jinping on Thursday night to coordinate efforts at the climate talks, the Chinese foreign ministry and White House said.
"As the Paris summit negotiations draw to a close, the U.S. and China should both strengthen the coordination and make joint efforts to ensure the Paris conference will reach an agreement as expected, which would be beneficial to the international society," Mr. Xi said, according to the foreign ministry.
In an interview, Ms. Mxakto-Diseko said Thursday's draft of the climate-change deal was too vague with regards to who will pay for developing nations to limit their greenhouse gas emissions and protect themselves against the impacts of climate change. And it contained new language that she said introduced new tests for developing countries to access finance provided by wealthy nations.
The South African diplomat, who leads the main negotiating group of developing nations, called the Group of 77, argued that the language describing how money will be provided from wealthy nations to poor nations for emissions cuts—"support shall be provided to developing country Parties"—must be more specific.
"You get vague language such as 'finance will be provided'—by whom?" Ms. Mxakato-Diseko said.