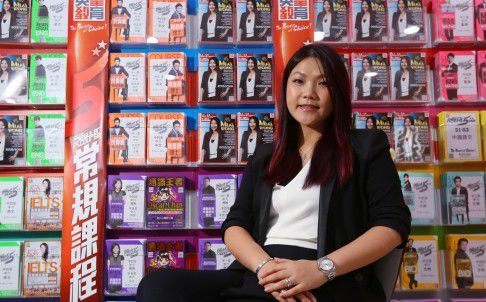 In just 18 seconds, tutor queen Mia Wong Man-chi recites 16 English tenses in one go, while her students look on in awe.
Wong's writing hand and her notes are enlarged and projected on a big screen. When she marks knowledge points with different coloured markers on her notes, the students follow, using the same colours to mark the same spots. When Wong draws a star, the students do the same. When she jots down some lines, the students copy the same lines.
"There are many things I teach in a class," says Wong. "Besides basic English knowledge, [I also teach] skills that can enable students to finish a reading [in exams] without quite knowing the meanings of specific words."
According to a 2012 survey by the Hong Kong Federation of Youth Groups, about 76 per cent of 524 Primary Five to Form Six pupils said they went to tutoring classes and 63 per cent were receiving tutoring. About 56 per cent of those who were receiving tutoring spent at least HK$1,000 a month on this extra cramming.
Educators say the prevalence of tutoring reflect a high-pressure education system, society's psychology of fearing of losing out and an increasingly competitive, globalised economy.
They worry that some forms of tutoring, where teachers only focus on teaching children how to pass exams without imparting them with any actual knowledge, have deviated from the purposes of education in developing all-round pupils who are creative and curious about study.
They also fear the danger of rich families getting educational advantages under such a system, thus leading to social inequality.
One problem, they say, is that the government has not recognised the existence of this shadow education industry, and thus losing a chance in discussing how to ease the pressure in the education system and society.
Matilda Tam Cheuk-ling, 12, has been receiving Chinese-language tutoring at Modern Education since July. She says she did not perform well in her Chinese-language subject exams and she wanted to learn skills in tackling the subject in the Diploma of Secondary Education exams, which she will take in five years.
"What the tutors teach are very different from what our school teachers teach," says Tam. "The tutors focus a lot on DSE exam-taking skills."
She says more than half of the students in her class at school are receiving tutoring, and those are just the ones she knows of.
Professor Mark Bray, director of the University of Hong Kong's Comparative Education Research Centre, says because local universities admit secondary school graduates mainly based on DSE exam results, many pupils seek help from tutoring to raise their exam scores.
He says parents also want to give their children a head start in a highly competitive society, where globalisation has brought in more competition from elsewhere, so they start to seek tutoring for their children at increasingly early ages.
He adds that when the majority of students are receiving tutoring, the rest of the students and their parents get nervous and there is pressure to follow suit.
"They think maybe, as an insurance, or maybe I will lose out if I don't [seek tutoring]," says Bray.
Cram schools, to expand their market share, are fuelling this anxiety by using advertisements and other strategies, Bray says, citing tutoring centre Ever Learning's much criticised advertising poster, which features a little girl crying and a slogan: "You don't like competition? But competition will find you!"
Professor Fok Ping-kwan, of the Institute of Education's department of curriculum and instruction, says society's high respect towards a selected few professions such as bankers, doctors and lawyers, and the income gap among different professions further strengthen the notion that it is necessary to gain high scores to enter a few high-paid, well-respected industries.
This social psychology, it seems, is not unique to Hong Kong.
According to a government-conducted annual survey in South Korea, about 69 per cent of primary and secondary students received private education last year. In Japan, a 2007 national survey found that 72 per cent of Secondary Three pupils received tutoring. In Taiwan, a 2012 survey conducted by the non-profit Child Welfare League Foundation found about 80 per cent of Primary Three and Four pupils receiving tutoring.
Bray says even in some Western countries, where the education systems are perceived to be more relaxed and less competitive, private education is becoming more popular due to rising social competition.
Fok says with more people from Asian countries emigrating to Western countries, Asian cultures, including the culture of tutoring, have also been influencing these countries.
But tutoring has one notable difference in Hong Kong – the high level of commercialisation and packaging that has turned private teachers into rock stars.
"Hong Kong's star tutor phenomenon is more prevalent than in other countries," says a senior manager of a large tutoring centre who insists on anonymity because of the heated competition among cram schools. "There are also advertisements about tutors in Taiwan, but Taiwan's students and parents are not quite as attracted to brand names. They are more down to earth than Hongkongers."
Anna Yeung Ting-yan, a 27-year-old private tutor, says she was once invited to join a cram school but declined after finding a wide gap between her teaching philosophy and that of the cram school founder.
She says she tends to arouse students' interests in study with stories, poems, songs and other activities, but the founder criticised her way of teaching as not being able to attract large numbers of students and earn big money. She says the founder preferred drilling his students.
One of Yeung's students is a Primary Four pupil. She says the girl's mother previously sent her to cram schools to improve her English, but the girl's interest in the language became even weaker after being forced to memorise vocabularies and grammar.
"She once rolled her eyes when she saw some English vocabularies," says Yeung. "She told me that she hated English very much."
Fok says when tutoring focuses only on teaching the young minds how to gain higher scores in exams, it has deviated from education's purpose to develop all-round students.
Bray agrees "there is a strong danger" of the score-focusing education system and cramming turning children into exam-taking robots.
"Here in HKU we get worried about that," says Bray. "We admit people who've got big scores but they actually are only machines for getting big scores."
But Bray says one of the education system's "hidden purposes" is to "sort people" and to "divide people into groups, so the examination system remains dominant, even if people don't like it".
Yeung, who wrote a book on early childhood education, says it may be necessary to prepare for DSE exams in secondary school by doing some drilling or learning some skills, but she says parents should not send primary school children to tutoring centres.
"Primary school is the best time to develop children's interests in learning. If the fire of their curiosity is put out by cramming, it will be a real danger."
However, it is not easy to change parents' inclination for their children to receive tutoring as early as possible, Fok says, if social values remain unchanged.
He says society's "honouring and rewarding" systems should be fairer towards different sectors, so parents lose the incentive to force children to achieve higher scores and get into better sectors.
For example, Fok says, the majority of members on many boards, committees and other bodies set up by the government or other esteemed organisations come from a few sectors such as business, medicine and law. He says if the government could include more people from other, less prestigious sectors in public bodies, society's perceptions on these sectors will start to change.
If the gap between the salaries in these less prestigious sectors and in better-respected sectors can be narrowed, Fok says, it will make a further difference.
Both Fok and Bray believe a competitive society and education system may worsen social inequality, because well-off families can afford more tutoring and after-school activities for their children.
Bray says he does not advocate subsidising tutoring for poor families, because "then you are legitimising tutoring, and you are explicitly saying schooling is not enough ... and the school days gets longer for everybody".
He believes there should be a serious discussion with parents, schools, educators and the government all taking part to find the best way to reduce inequality caused by education, but he says the first step is for the Education Bureau to recognise there is a problem.
"Next question: why has it not recognised it?" says Bray. "My answer: it's got too many other burning issues on its hands and it doesn't want to open the box and [get] something else which is very complicated."