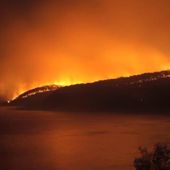 Great Ocean Road bushfire destroys more than 50 homes
Firefighters battling a raging bushfire on Victoria's surf coast on Saturday morning were hopeful a wind change and rain would stop the blaze reaching the tourist town of Lorne. Related: Great Ocean
http://www.theguardian.com/australia-news/2015/dec/26/great-ocean-road-bushfire-destroys-more-than-50-homes
The number of homes destroyed in the Wye River fire on Victoria's Great Ocean Road on Christmas Day has risen to 116.
Country Fire Authority deputy incident controller Mark Gunning said 116 houses in Wye River and Separation Creek had been destroyed in the 2200-hectare blaze.
"That will probably be the final number, as we've just completed an extensive search," Gunning said on Saturday evening.
The fire swept through bushland and began to advance toward the town of Lorne on Friday night.
And the emergency management commissioner, Craig Lapsley, said the blaze could continue burning until January or February. Even a dousing of rain on Saturday was unlikely to do much in the long term once the state began to dry out. "This fire doesn't go away," Lapsley said.
More than 300 firefighters spent the night fighting the fire after the town of Lorne was evacuated on Friday evening. Residents were told they could go home after an evacuation recommendation was lifted shortly after 9am on Saturday.
The nearby townships of Wye River, Separation Creek, Kennett River and Grey River were evacuated earlier on Friday afternoon. Emergency warnings remain in place for Wye River and Separation Creek, and both areas remained closed on Saturday afternoon.
"Power is out, though fallen domestic solar power lines remain a threat," a Country Fire Authority notice said.
"There are a number of hazardous tress that have been burnt and are dangerous, and damage to septic systems can result in leaking sewerage and health hazards."
Crews were also assessing the full extent of property damage in area.
Watch and act alerts were in place for Lorne, Allenvale, Kennett River and Grey River on Saturday.