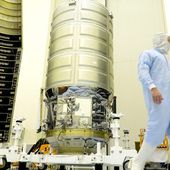 NASA Set to Launch Supply Ship to Space Station
NASA 's supply ships to the International Space Station are soon to fly again. Orbital ATK, one of two companies that NASA has hired to ferry cargo, is set to launch 7,700 pounds of equipment ...
http://www.nytimes.com/2015/12/03/science/nasa-set-to-launch-supply-ship-to-space-station.html
NASA's supply ships to the International Space Station are soon to fly again.
Orbital ATK, one of two companies that NASA has hired to ferry cargo, is set to launch 7,700 pounds of equipment, experiments and supplies on Thursday.
Orbital's last cargo run, in October last year, ended in a fireball when the rocket exploded 15 seconds after liftoff. Investigators blamed the failure of one of two refurbished 1970s-era Soviet engines that powered Orbital's Antares rocket. The launchpad at Wallops Island, Va., was badly damaged.
This time, Orbital's unmanned spacecraft, Cygnus, is flying on top of a competitor's rocket, an Atlas 5 built by the United Launch Alliance.
"We're very confident once we're delivered into orbit, we'll be able to get back in the groove and do what we've done before," said Frank L. Culbertson Jr., president of the space systems group at Orbital ATK.
Liftoff is scheduled for 5:55 p.m. Thursday from Cape Canaveral Air Force Station in Florida. Forecasters said there was a 40 percent chance that unsettled weather could postpone the launch.
If it gets off the ground on Thursday, the cargo spacecraft is to arrive at the space station on Sunday, greeted by the six astronauts on board: two Americans, three Russians and one from Japan.
The Atlas 5 is a more powerful rocket, and an upgraded Cygnus capsule, about three and a half feet longer, has 25 percent more cargo space than earlier Orbital flights.
The cargo on the Cygnus includes small satellites to be deployed from the space station; a new jetpack for astronauts during spacewalks; high-pressure nitrogen and oxygen tanks for the space station's air supply system; and Microsoft HoloLens visors, "mixed reality" devices that project holograms to appear next to real, physical objects.
In one mode, the visors will allow controllers on the ground to see exactly what an astronaut is seeing. Experts on the ground can then draw annotations that show up in an astronaut's field of view.
In a second mode, animated holograms could act as a real-time, three-dimensional instruction manual, potentially simplifying and speeding training.
The science experiments include one that will test the effectiveness of flame-resistant fabrics in space. In the absence of gravity, flames and combustion behave differently than on Earth.
The cargo flight will also take up a new laboratory for the study of bacteria and other micro-organisms, cells and tissues, and small plants and animals.
One of the small satellites on the Cygnus was built by students from prekindergarten through eighth grade at St. Thomas More Cathedral School in Arlington, Va.
In January, the Cygnus is to undock from the space station carrying 3,000 pounds of trash. By design, it will burn up while re-entering Earth's atmosphere.
Orbital is to launch one more time on top of an Atlas 5 rocket next spring, and then plans to resume launching its Antares rocket. Orbital will no longer use the old Soviet-era engines, having revamped the Antares design with newer, more powerful RD-181 engines from Russia.
Meanwhile, NASA's other cargo company, Space Exploration Technologies Corporation, or SpaceX, also hopes to resume flying this month by launching a couple of commercial satellites.
SpaceX has been grounded since June when a Falcon 9 rocket carrying supplies for the space station broke apart in flight, because of the failure of a strut within the second-stage liquid oxygen tank.
SpaceX's next cargo delivery for NASA, which will include an inflatable module to be added to the space station, will not occur until next year.
A Russian Progress cargo rocket failed in April, but another Progresssuccessfully launched in July. Because of cargo launches by Russia and Japan, the astronauts on the space station have not run out of supplies.
At a news conference Wednesday, Kirk Shireman, NASA's space station program manager, said toilet supplies would last until February and food until April. "We're not overly concerned at this point in time," he said, "but we're not as robust as we would like to be."
NASA originally awarded SpaceX a $1.6 billion contract for 12 flights, and Orbital — then known as the Orbital Sciences Corporation — a $1.9 billion contract for eight flights.
SpaceX and Orbital ATK, formed in February in the merger of Orbital Sciences and the aerospace portion of Alliant Techsystems, are among the companies competing to operate a second batch of cargo flights. NASA had delayed announcing three times; it is now expected by the end of January.
Instead, NASA ordered three additional flights from SpaceX and two from Orbital ATK under the current contracts.
NASA has not revealed how much it will now be paying SpaceX and Orbital ATK, but the space agency said both contracts remained under the maximum potential value of $3.1 billion.
Advertisement