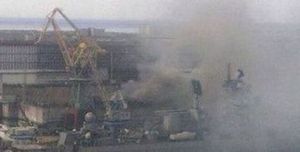 At least one person was killed in an explosion that occurred on an Algerian vessel being repaired at the Severnaya Verf (Northern Shipyard) shipyard in St. Petersburg, a source familiar with the situation told TASS on Monday.


"This is an Algerian ship that was sold in the Soviet time and now it is undergoing modernization at the Severnaya Verf," the source said.


"The preliminary cause is the rude violation of safety rules when the paint works and welding works were being carried out in room," he said.


A regional department of the emergencies ministry earlier said three people were also injured in the blast inside an engine room. A source in law enforcement agencies told TASS six people sustained injuries.


Only the shipyard's workers are among those injured.


The president of Russia's United Shipbuilding Corporation, Alexei Rakhmanov, said the blast caused minor damage.


The Severnaya Verf shipyard produces, repairs and modernizes naval ships for the Russian and foreign Navy.