A weary Segolene Royal, No. 3 in the French government, was having little of one journalist's query that the fate of the Paris climate talks was now in the hands of sleep-deprived zombies.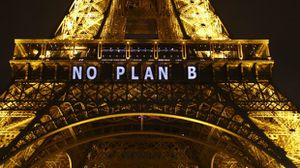 A weary Segolene Royal, No. 3 in the French government, was having little of one journalist's query that the fate of the Paris climate talks was now in the hands of sleep-deprived zombies.
"Why zombies? Have you never worked for two or three days straight?," she told a clutch of reporters deep inside the warren of meeting rooms and pavilions at the summit site.
"The more you work the less tired you are – that's my philosophy," Ms Royal added with elan. "It's fantastic these 10,000 people are trying to save the world."
The upbeat assessment belies the experience of negotiators, some of them heading into their third day without sleep, as the French hosts drive towards an agreement by some time on Saturday – only a day over schedule so far.
Take Fobissie Kalame​, a senior – and sometimes the only – negotiator seemingly punch-drunk after fighting Cameroon's corner for 48 hours straight.
"I'm losing my stability – my centre of gravity," Dr Kalame, who in civilian life teaches at the University of Helsinki in Finland. "I feel sick, I just want to sleep."
Not much chance of that for the climate policy expert, who says he is toiling so far without success to get text dealing with carbon markets and deforestation in the final text.
As the intense talks dragged deep into Friday morning, idle staffers were grabbing naps in corners or in corridors. "Some were just barefoot – it's normal," Kalame said, propping himself up at a table near a well-patronised coffee cart.
Indeed, seemingly endless rounds of discussions that run overtime have become the norm at climate summits. More is at stake this time around given the need to set targets to cut carbon emissions beyond 2020 before dangerous climate change – marked as 2 degrees warming above pre-industrial levels – becomes unavoidable.
Julie Bishop, Australia's foreign minister, was on hand for consultations up until 4am before breaking off to rest and report back to Canberra.
Many of the Australian delegation stayed on until 6am when they left the freezing conference room briefly to their hotels for breakfast and warmth.
"It was bitter," one staffer said. "We were cold and hungry."
The Aussies were relying on adrenaline and passion to get through. Staff were told: "This is a crunchy point". After 20 years of talks it was "too critical to make a mistake".
Late-night texting
Mistakes may be less a problem for the outcome of the conference than the determined actions of well-briefed, organised and powerful teams.
A European negotiator said the Americans all seemed too fit and alert, led by their tireless top climate negotiator Todd Stern.
At about 4.15am, in a small group session, the US chief demanded changes to a crucial article dealing with the aid wealthier nations will be offering to developing nations to nudge them to a lower-carbon growth path and help them cope with climate impacts now and in the future.
Instead of "shall" give aid, donors will only be "expected to" provide help, a change the European delegate said appeared aimed at avoiding any legal obligation.
The repercussions of the change, reluctantly waved through by the EU, would stir angst and drain the energies of developing nation blocs through the rest of the day. It also put at risk the chances of a successful agreement, Nozipho Mxakato-Diseko, South Africa's chief negotiator told Fairfax Media and two French journalists later in the day.
"The key to an agreement is finance," Ms Mxakato-Diseko said, blaming the Umbrella Group that includes the US and Australia. "Once you unlock finance, everything will fall into place."
The finance problem – with developing nations expecting to be promised at least $US100 billion ($136 billion) a year by 2020 – joins reviews of targets and their transparency as key remaining issues.
The French say they will release the final text of the agreement late on Saturday morning, releasing exhausted delegates to get some much-needed rest.
For some of the Australians, a couple of long plane rides awaits, and then days of debriefing in Canberra.