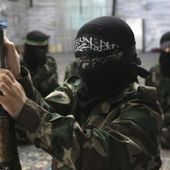 Tunisia Admits 3,000 Nationals Fighting for Islamic State, 600 Returned After 'Expressing Remorse'
Walid Elwekeine, a spokesperson for the Tunisian Ministry of the Interior, confirmed the estimates to the Saudi newspaper Asharq al Awsat, which is published in London. The men, he said, infiltrated
http://www.breitbart.com/jihad/2015/12/27/tunisia-admits-3000-nationals-fighting-for-islamic-state-600-returned-after-expressing-remorse/
Walid Elwekeine, a spokesperson for the Tunisian Ministry of the Interior, confirmed the estimates to the Saudi newspaper Asharq al Awsat, which is published in London.
The men, he said, infiltrated into IS-controlled areas under false pretenses, such as tourism.
Elwekeine also said that a hair-raising 12,000 potential Tunisian volunteers were prevented from joining IS after their intentions were uncovered by the local security services.
In response to international estimates that between 10,000-50,000 Tunisians have been recruited for the jihadi cause, whether by IS or another group, the spokesperson said: "That's an exaggeration. Our estimate stands at 3000, with another 800 killed in the last five years in battle in Syria, Iraq and Libya."
According to Elwekeine, some 600 returned to Tunisia soon after they left, having realized they made a mistake.
"They contacted our embassies in Turkey and Syria and, after expressing remorse, asked to return," he said.
"Ninety-five percent of them were arrested and interrogated by police upon their return, while the others remained under surveillance," he added.
According to the paper, the Tunisian government, together with academic and religious institutions in the country, have launched a campaign against radicalization "so as not to limit the modes of prevention to law enforcement agencies alone."