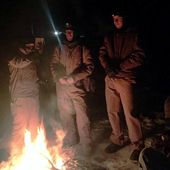 Armed Group Vows to Hold Federal Wildlife Office in Oregon 'For Years'
Federal officials said on Sunday that they were monitoring the armed takeover of a remote federal wildlife refuge in the rural southeastern corner of Oregon. The occupation, which began Saturday ...
http://www.nytimes.com/2016/01/04/us/armed-group-vows-to-hold-federal-wildlife-office-in-oregon-for-years.html
BURNS, Ore. — The protesters arrived in this old lumber town to support a 73-year-old rancher and his son who had been sentenced to prison for setting fires that spread to federal lands. It was billed as a peaceful demonstration, but after "Amazing Grace" was sung and hugs were exchanged, a small, armed contingent declared outside a supermarket that it was taking a stand and asked who wanted to join.
So began the latest armed flare-up in a decades-long struggle between federal officials and local landowners and ranchers over how to manage the Western range. The armed antigovernment group seized empty administrative buildings on a federal refuge for wildlife about 30 miles away through the snowy sagebrush, and by Sunday night, had hunkered down for what they vowed would be an indefinite standoff with the government.
"We will be here for as long as it takes," said Ryan Payne, an Army veteran who characterized the group's action as a liberation of public lands. "People have talked about returning land to the people for a long time. Finally, someone is making an effort in that direction."
He said there was already talk of renaming the refuge the Harney County Liberty Center.
Relatives of the ranchers convicted of arson, Dwight L. Hammond and his son Steven D. Hammond, 46, distanced themselves from the armed takeover, but said they understood the underlying anger over federal land policies that many here feel are intrusive and overreaching.
"I don't know those people that well, except that I just see from the outside that we have a lot of things in common," said Dwight Hammond's wife, Susan. "We share a lot of sentiments in regards to our government, and the overreach into management of our country."
The Harney County sheriff, David M. Ward, said in a statement on Sunday, "These men came to Harney County claiming to be part of militia groups supporting local ranchers, when in reality these men had alternative motives to attempt to overthrow the county and federal government in hopes to spark a movement across the United States."
Despite the stern language, there did not appear to be any imminent plan to confront the protesters. There was no sign of law enforcement outside the wildlife refuge on Sunday night, though the Oregon State Police urged people to stay away and federal authorities said they were monitoring the situation.
At the entrance to the Malheur National Wildlife Refuge, people associated with the occupying group blocked the road. As the temperature dropped below freezing Sunday night in the high desert outside the stone cottage that is the refuge's headquarters, the occupiers set a small fire to stay warm, but the snow-saturated sagebrush would not stay lit. Other local ranchers periodically drove up, looked and then drove away.
Roger Wilson, 74, a retired outdoor outfitter, drove about 60 miles just to sit in his vehicle and watch what was happening. He said his own view of the situation was a bit conflicted.
Mr. Wilson said he was an admirer and a friend of the Hammond family — "I support them 100 percent," he said. But he added that he was wary about what might unfold with the arrival of the armed outsiders.
"I don't want to see them causing problems down here," he said.
Members of the protest group allowed reporters to walk down to the cluster of buildings — which include the headquarters, a visitors center and a museum — but did not allow entry into any of them. A few people lingered outside in the cold among a cluster of brick and stone buildings, picnic tables and birdfeeders. A lookout tower near the headquarters was clearly manned by at least one person.
LaVoy Finicum, 55, a cattle rancher from Mohave County, Ariz., said he had not planned on being part of the protest. He said he had originally come to support the Hammonds. Then he found himself involved.
"I want to leave as soon as possible, but I will stay as long as necessary," he said when asked how long the protests might go on. He said none of the buildings had been damaged because doors had been open or keys could be found.
The group was led by Ammon Bundy, a rancher whose family became a symbol of antigovernment sentiment in 2014 when his father, Cliven Bundy, inspired a standoff between armed local antigovernment activists and federal officials seeking to confiscate cattle grazing illegally on federal land in Nevada.
In a statement captured on video, Ammon Bundy said Sunday that his group was "prepared to be out here for as long as need be" and would leave only when the people of Harney County "can use these lands as free men."
But their actions drew a mixed response here in Harney County, an economically struggling rural area with 7,100 residents that has relied on sheep and cattle ranching and the timber industry. Residents expressed sympathy with the underlying complaints, but elected officials criticized the armed protesters as an outsider militia group whose actions had thrown their community into a harsh national glare.
"The battle was brought to us," said Dan Nichols, a county commissioner who is a neighbor of the Hammond family. "This county isn't supportive of what's being done here at all. Once again, it's a bunch of those who live without the county telling us what we need to do, how we need to be doing it and the repercussions if we don't."
In this parched corner of eastern Oregon, some counties are nearly 90 percent public land and many ranchers depend on grazing leases from the federal government. Ranchers in the region have tried to buck federal management since at least the 1970s, when ranchers tried to claim federal land during the so-called Sagebrush Rebellion.
The Hammonds bought their ranch in Oregon in 1964, and have spent years at odds with federal land officials in the area. Three years ago, Dwight and Steven were convicted of lighting fires, in 2001 and 2006, that they said were efforts to protect their property from wildfires and invasive plant species.
The fire in 2001 accidentally spread to about 140 acres of government land, documents show. In 2006, a burn ban was in effect while firefighters battled blazes started by a lightning storm on a hot day in August. Steven Hammond had started a "back burn" to prevent the blaze from destroying the family's winter feed for its cattle.
The Hammonds each served sentences for the arson charges, but they were ordered to report to a prison in California on Monday after a federal judge ruled that the sentences they had served were not long enough under federal law. Ms. Hammond said her husband and son would surrender themselves as ordered.
The case caused a local uproar, but it also touched a nerve with far-right groups like the one headed by Mr. Bundy. The Bundys have been organizing opposition to the government case against the Hammonds on social media in recent weeks. They described the case as a tyrannical use of federal authority.
In a video posted to Facebook on Saturday, Mr. Bundy called the Hammonds' case "a symptom of a very huge, egregious problem" that he described as a battle over land and resources between the federal government and "the American people." He said his group was occupying the federal site to take "a hard stand against this overreach."
Mr. Payne, the veteran who is also at the site, said the group was not violent. But he also said members had discussed the possibility that the standoff could turn violent.
Referring to the federal government, he added, "If they think that's worth bringing their armies in here and harming or fouling that endeavor, we'll just have to read the Constitution and look at our Bibles and see who's on the right side."