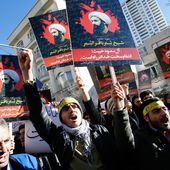 Bahrain cuts diplomatic ties with Iran in row over Saudi execution of Shia cleric
Bahrain has quickly followed Saudi Arabia in severing its diplomatic relations with Iran in the wave of the row over the execution of a leading Shia cleric by the Saudi authorities, which has ...
http://www.theguardian.com/world/2016/jan/04/bahrain-cuts-diplomatic-ties-with-iran-in-row-over-saudi-execution-of-shia-cleric
Bahrain and Sudan have quickly followed Saudi Arabia in severing diplomatic relations with Iran in the wake of a row over the execution of a leading Shia cleric by the Saudi authorities, which has provoked wide international condemnation. Sudan also says it has cut diplomatic links, while the United Arab Emirates has also downgraded ties with Tehran.
Saudi Arabia also said that it was halting all air traffic to and from Iran, and would ban its citizens from visiting. Iranians, however, would be still be able to visit the kingdom for pilgrimages to Mecca.
The Gulf island state Bahrain, Saudi Arabia's closest Gulf ally, said on Monday that Iranian diplomats had 48 hours to leave Manama, and its own diplomats would be leaving Tehran.
Shortly afterwards, Sudan announced that it was expelling the Iranian ambassador to Khartoum and that all ties had been severed. Sudan has been distancing itself gradually from Tehran in recent months.
The UAE is also downgrading its diplomatic representation to Iran, replacing its ambassador with a chargé d'affaires, al-Hadath TV reported. The relatively modest step is likely to reflect the close trade ties between the two countries despite longstanding political tensions.
Over the weekend protesters set ablaze the Saudi embassy in Tehran and its consulate in another Iranian city, Mashhad. The attacks have been widely condemned inside Iran as an own goal, diverting attention from the execution of Sheikh Nimr al-Nimr and 46 others.
Attacks on foreign embassies have often taken place in Iran: these include the 2011 storming of the British embassy and the infamous US hostage crisis after the 1979 Islamic Revolution.
The recent incidents have brought much embarrassment for the moderate administration of the president, Hassan Rouhani, and undermined his diplomatic apparatus. Internal critics say the unrest has shifted attention away from the executions in Saudi Arabia.
Iran's foreign ministry spokesman, Hossein Jaberi Ansari, said on Monday: "It seems that Saudi Arabia considers not only its interest, [but also] its survival in the continuation of tensions and conflicts and is trying to settle its domestic problems through blame games.
"The Islamic Republic of Iran pursues a clear and transparent policy with regard to the expansion of interaction and cooperation with all neighbours and world countries and enjoys excellent relations with many regional governments, especially Arabic governments."
The row is likely to have serious consequences for Iranians who plan to travel to Saudi Arabia for the hajj pilgrimage. Iranians need visas for such visits and some people save for several years in order to make the journey. It is still unknown whether upcoming visits will all be cancelled.
On Monday Iran's first vice-president, Eshagh Jahangiri, used strong language to denounce Saudi officials over the executions. "I advise the Saudi leaders to stop these subversive, hasty, illogical, emotional acts that are marked by mismanagement," he was quoted as saying by the state-run Press TV.
"Just look what chaos you have created in the region over the past couple of years," he said. "What came of your move to create terrorist groups other than plunging the region into disarray and the plundering of the properties of the people of Syria and Iraq and elsewhere?"
The head of Iran's judicial system, Ayatollah Sadeq Amoli-Larijani, accused Saudis of wreaking havoc in the region. "The Muslim world today is witnessing numerous crimes [committed] by Saudis in different regions and in all [instances of] belligerency happening in Iraq, Syria, Lebanon, Yemen and Bahrain, Saudis' fingerprints and their support for terrorists are seen," he said on Monday, according to Press TV.