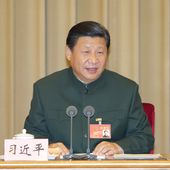 China releases guideline on military reform
Chinese President Xi Jinping, also general secretary of the Communist Party of China (CPC) Central Committee and chairman of the Central Military Commission, speaks at a military reform conference ...
http://www.chinadaily.com.cn/china/2016-01/01/content_22898563.htm
BEIJING - The Central Military Commission (CMC) has released a guideline on deepening national defense and military reform, about a month after CMC Chairman Xi Jinping called on a military administration and command system overhaul at a key meeting.
According to the guideline, a new structure will be established in which the CMC takes charge of the overall administration of the People's Liberation Army, the Chinese People's Armed Police and the militia and reserve forces, battle zone commands focus on combat preparedness, and various military services pursue development.
The overall goal is to achieve progress and concrete results before 2020 in military administration and joint operational command, optimizing military structure, enhancing policy systems and civilian-military integration, and building a modern military with Chinese characteristics that can win information age wars.
While 2015 was mainly devoted to the implementation of leadership management and joint operational command reform, the guideline said 2016 will see military cuts, improved combatant personnel and reform of military academies and armed police forces.
The reform will include cutting troops from 2.3 million to 2 million, phasing out outdated armaments, developing new weapons systems and reducing the size of the militia.
The move to deepen defense and military reform is aimed at breaking down systematic, structural and policy barriers, modernizing the organization of the military, and unleashing the combat capacity of the military.