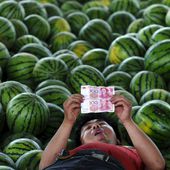 Chinese efforts to talk up yuan fail to stop slide in oil and stock prices
The Chinese authorities have stepped up their public relations campaign to convince sceptical investors and the world that they are in control of the country's spluttering financial system. China's
http://www.theguardian.com/business/2016/jan/12/chinese-efforts-to-talk-up-yuan-fail-to-stop-slide-in-oil-and-stock-prices
The Chinese authorities have resorted to "nuclear strength" weapons to deter an attack on the yuan by short sellers and convince sceptical investors that they are in control of the country's spluttering financial system.
China's central bank fixed the currency firmer again on Tuesday but traders were not persuaded and the currency slipped in early trade despite what dealers called aggressive intervention to support the currency.
The gap between the mainland yuan and its offshore counterpart had grown in recent days but suspected intervention by China's state-owned banks brought them almost into line on Tuesday.
The action sent the rate at which banks charge each other to borrow yuan in Hong Kong to a record high of 67% on Tuesday.
"The market suspects that the People's Bank of China is possibly using major state banks to directly drain yuan liquidity in offshore markets," said a dealer at an European bank in Shanghai.
The dealer described the strength of the central bank's actions as being of "nuclear-weapon" level strength. "Its actions are comparable to steps taken by other central banks when they previously fought against international speculators, such as George Soros," he said.
Equity markets in China looked set to end in positive territory with the Shanghai Composite Index falling up 0.5% in afternoon trading and the CSI300 index up 1% .
Oil prices, which have lost 20% already this year amid uncertainty about the Chinese economy, continued to slide on Tuesday.But other markets in the region continued to struggle with the Nikkei off 2.7% in late afternoon trading while the ASX/S&P 200 in Australia closed down for the eighth session in a row.
Brent crude fell 43c to $31.12 a barrel having earlier touched $31.08, their lowest since April 2004. US crude was trading at $30.98 per barrel, also down 43c.
Signalling a desire for stabilisation, the People's Bank of China set the mid-point for the yuan at 6.5628, barely changed from the previous strong fix and higher than its late levels on Monday.
Perceived mis-steps by China's authorities have stoked concerns in global markets that Beijing might be losing its grip on economic policy, just as the country looks set to post its slowest growth in 25 years.
Amid suspicions by some in the market that China wants the yuan to devalue in order to boost its ailing exporters, sources suggested there were moves afoot for China's cabinet to take a bigger role in overseeing financial markets.
The state council has set up a working group to prepare for upgrading the cabinet's financial department to bureau level, said a source close to the country's leadership.
Officials were doing their best to talk up the currency which was trading up slightly at 6.5757 to the dollar at 4am GMT on Tuesday.
The central bank's chief economist Ma Jun said on Monday that the bank planned to keep the yuan basically stable against a basket of currencies, and fluctuations against the US dollar would increase.
Han Jun, deputy director of the office of the Chinese Communist party's leading group on financial and economic affairs, said a more substantial decline in the yuan was "ridiculous" and "impossible".
He was speaking at a briefing held at the Chinese consulate in New York, suggesting the authorities were broadening their verbal campaign to deter yuan sellers.
"With export growth deeply in negative territory, and exports likely to remain weak in coming months, it is likely easier to reach a policy consensus to allow some depreciation," Goldman analysts wrote in a note.Not all are convinced, however. Goldman Sachs on Monday sharply cut its forecast for the yuan for this year and next.
Morgan Stanley has also cut its forecast, predicting that the yuan could fall to 7.31 to the dollar by the end of 2017.
"While policymakers are still trying to maintain the trade-weighted (yuan) exchange rate in a stable range, we now anticipate that they will transition towards targeting a depreciation ... earlier than initially expected," the bank said.
"This move will help policymakers to still cut interest rates to manage deflationary pressures, but will imply further depreciation of the yuan (against the dollar)."
Figures for China's December trade accounts are due on Wednesday and are expected to show further falls in both exports and imports.
But on Tuesday, China's top planning agency said the economy likely grew by thegovernment's target of around 7% in 2015 and added 13 million new jobs as it announced the approval of more large infrastructure projects to avert the risks of a sharper slowdown.
China achieved its main economic targets in 2015, Li Pumin, spokesman for the national reform and development commission (NDRC) told a news conference. Official fourth-quarter and full-year 2015 figures will be released next week and are expected to show GDP growth at around 7% but many experts believe the country's true growth is much weaker.