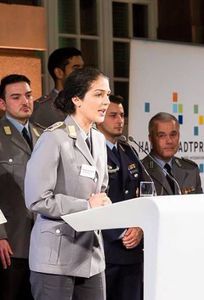 New York – Nariman Reinke, a German and Muslim female soldier, criticizes the racism that followed the Cologne attacks on New Year's Eve. She is the daughter of Moroccan immigrants who arrived in the country 52 years ago.
The recent attacks and incidents of sexual assault in Cologne have stirred up outrage and fueled civil unrest against refugees and asylum seekers across Europe. German Chancellor Angela Merkel has been criticized for her open-door policy, while Germany and other European countries have since reviewed their refugee policies and hardened their asylum procedures.
"Rape is a criminal offense in Morocco and [to] dishonor a female is for Muslims a extremely severe and terrible act," wrote Mr. Reinke, 36, in a Facebook post, making clear that sexual assault is neither part of Moroccan nor Muslim cultures.
She is part of a military organization, Deutscher Soldat, which volunteers for refugee causes and tries to improve integration.
"All refugees, with whom I have spoken, are just as shocked as the whole [of] Germany. In particular, because they know well that one of the consequences of Cologne is that they are now all looked suspicious," she stated on Facebook.
"My parents worked very hard to establish themselves here," Ms. Reinke told Deutsche Welle in an interview. "I cringe when I hear these people who sexually assaulted women were from Morocco."
The increasing intolerance and Islamophobia has reached alarming levels in Germany and other European countries.
"My brother likes keeping a beard, my husband too," Ms. Reinke said. "They find it nice. But my brother was beaten up on the street because of the beard because those who did it thought he was a radical Islamist. He had to shave off his beard."
Although the reports on the attackers' nationalities are still not very clear, they have pointed out that migrants and men, aged between about 17 and 30, of Arab and North African descent – in particular of Moroccan, Algerian or Tunisian origin – were implicated.
Germany, along with Sweden and Austria, has been the most open of European countries to take in refugees. In 2015, Germany registered the highest number of asylum-seekers – around one million – in particular from Syria, Iraq and Afghanistan.
In an attempt to curb migration from North Africa, Germany wants to declare Morocco, Algeria and Tunisia "safe countries," which would end their citizens' chance of being granted asylum in Germany. Morocco's king Mohammed VI and German Chancellor Angela Merkel have agreed on repatriating illegal migrants – nearly 3,000 people – to Morocco.
"The recent flows of irregular immigrants, among whom some falsely claim to be refugees, were the results of a humanitarian call, which was diverted from its purpose and was hugely exploited by human trafficking networks active in both shores of the Mediterranean," read the statement.