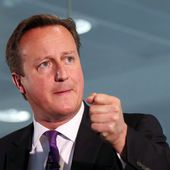 EU referendum: David Cameron to allow ministers to campaign for either side
David Cameron is expected to confirm on Tuesday that he will allow ministers to campaign for exit from the EU once his re-negotiation is complete. His decision is likely to avoid the resignations of
http://www.theguardian.com/politics/2016/jan/05/eu-referendum-david-cameron-to-allow-ministers-to-campaign-for-either-side
Prime minister asserts determination to lead party after saying ministers can campaign on either side of EU debate.
David Cameron has clearly stated that he will remain as prime minister even if he loses the referendum on Britain's EU membership.
In a bid to shore up his position after conceding that ministers will be free to campaign on either side in the referendum, the prime minister insisted that he would continue to lead the government after the vote.
Cameron told MPs in a statement on last month's EU summit: "Our aim to set forward a choice for the British people that they want. And they can either choose to stay in a reformed European Union, or to leave a European Union. And, come what may, I will continue to lead the government in the way I have."
The prime minister's remarks were seen as a warning to Eurosceptic Tories who are planning to demand his resignation if he loses the referendum that they will face a battle to remove him. Eurosceptics believe the prime minister is following the tactics he adopted in the Scottish referendum: to neutralise questions about his future while privately drawing up plans to resign in the event of a defeat.
The warning by the prime minister came after he confirmed that he would follow the example of Harold Wilson, who suspended collective cabinet responsibility during the 1975 EEC referendum......................See more