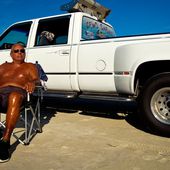 Florida Beachgoers Cling to a Right to Make the Sand Their Driveway
DAYTONA BEACH, Fla. - On sunny weekends, when busy schedules yield to bygone notions of leisure, Greg Gimbert and his 9-year-old son jump into a silver sport utility vehicle packed with a pop-up ...
http://www.nytimes.com/2016/01/27/us/florida-beachgoers-cling-to-a-right-to-make-the-sand-their-driveway.html
DAYTONA BEACH, Fla. — On sunny weekends, when busy schedules yield to bygone notions of leisure, Greg Gimbert and his 9-year-old son jump into a silver sport utility vehicle packed with a pop-up canopy, a cooler, chairs, surfboards and boogie boards and drive a short distance to the beach, where Mr. Gimbert parks on the sand and sets up his gear.
It is an extraordinary convenience — one that beachgoers lugging paraphernalia elsewhere in the state can only imagine — and a part of culture here, a form of seaside tailgating.
"We have a millionaire's-level privilege, and the price of admission is a car and the cost of gas for locals," Mr. Gimbert, 46, said about a century-old tradition that invites beachgoers here to drive and park (and, once upon a time, race) on the sand. "But now we feel they are taking away the one thing that any of us is here for: access to our beaches."
In a state where fights over public beach access are not uncommon,Daytona Beach, a place with a long history of beachfront driving, is mired again in a particularly polarizing battle over whether to restrict cars on more stretches of sand. Since the 1980s, beach driving has been curtailed piecemeal by local laws: Where once beachgoers could drive along any strand of Volusia County's 47 miles of hard-packed sand, they are now down to 17 miles.
With an additional two miles or so now at stake, a proverbial line in the sand has been drawn by fed-up middle-class residents. They have shifted their anger to court, where they have so far been unsuccessful.
In their view, the county is selling out to moneyed developers by infringing on their right to enjoy public land.
"It's tradition," said Jim Hoak, 78, a retired small-restaurant owner, "and it should be up to the public to determine."
One group, Let Volusia Vote PAC, is led by Mr. Gimbert. Last year, it collected enough signatures to put a proposal on the ballot that would amend the county charter to require that voters approve any reductions in designated beach driving areas. But Volusia County played hardball and sued, arguing that the petition was unconstitutional. The county prevailed, and the case is on appeal.
Once billed as the world's most famous beach, Daytona earned that label in large part through its beach driving, a tradition that began with the horse-and-buggy era, progressed to car racing on the sand and later settled into simple cruising and parking. Nascar stock car racing, which takes place at Daytona International Speedway a few miles away, has its roots in beach racing here.
"It's one of the things that define Daytona Beach," said Paul Zimmerman, a school counselor, surfer and lifelong resident. He is also the president of Sons of the Beach, a group that advocates protecting beach driving, and is suing the county over new restrictive ordinances.
"It's why people come," Mr. Zimmerman said.
The most recent dispute began in earnest last year, when the Volusia County Council moved to entice hotel developers to help revitalize the once-celebrated, now-scruffy beachside portion of Daytona Beach. The council approved three ordinances, long sought by developers, that would take cars off stretches of the beachfront. Two would remove vehicles from behind specific properties, where a Hard Rock Resort is planned and a Westin hotel is slated to open.
A third ordinance has the potential to free the beach of cars along portions of a two-mile strip if developers meet certain standards.
As a trade-off, the developers must build parking lots on beachside property in an attempt to make up for the loss of parking on the beach.
Pointing to vacant storefronts, faded motels and a Main Street that caters overwhelmingly to the bikers who visit the beaches here en masse twice a year, supporters of the ordinances said Daytona Beach was clamoring for investment.
The last new hotel was built 20 years ago, they said, and one reason is that developers are turned off by all the cars on the beach.
Other recent attempts to spark redevelopment have largely failed to freshen up Daytona, which still has a vintage Florida surfer vibe. Beach towns just to the north and south are faring well, even though they, too, allow beach driving. (Only a handful of Florida beaches now permit cars, many of them in Volusia County.)
"It's hard to get big investors to invest when the area around it is deteriorating," said Peggy Farmer, who helped create and lobby for the ordinances. "The beach is beautiful. But across the street, businesses are closed or old, and homes are rented. People do not have pride in the property."
The hotels, she said, may contribute to "a renaissance."