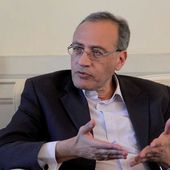 Xi's visit raises high hopes in Egypt
President Xi Jinping's first state visit to Egypt, set for Jan 20 to 22, comes at a crucial time as Cairo is eager to inspire more confidence in foreign investors, said the Egyptian ambassador to ...
http://www.chinadaily.com.cn/world/2016-01/17/content_23121056.htm
The trip comes at a key juncture for the Middle East's most populous country, which is hoping for new partnerships
President Xi Jinping's first state visit to Egypt, set for Jan 20 to 22, comes at a crucial time as Cairo is eager to inspire more confidence in foreign investors, according to the Egyptian ambassador to Beijing.
It would be the first state visit in nearly 12 years by a Chinese president to Egypt, a country of more than 90 million that is the most populous in the Middle East and third most populous in Africa.
Ambassador Magdy Amir says Egypt stands at the center of various regional markets and opportunities, and international investors including Chinese could benefit from its development.
He told China Daily in a recent interview that development is the primary way to stabilize Egypt and China has a significant role to play in this process.
The country found itself in turmoil in 2011 after longtime president Hosni Mubarak resigned. Elections witnessed the rise of the Muslim Brotherhood, a group ousted a year later.
But officials say development, not turmoil, is now on Egypt's agenda.
"Our dedication to development can be reflected by the opening of the New Suez Canal, which was achieved in a very short time and with our own domestic resources," he says. "It strengthened our connection with the Middle East, North Africa, and also sub-Saharan Africa."
The New Suez Canal, an $8.2 billion project finished in July, added a new channel to allow ships to move in both directions simultaneously, and expanded an existing sector. Daily capacity rose from 49 to 97 ships, according to the Suez Canal Authority.
Hoda Jadalla, press counselor of the embassy, says issues to be discussed during the visit include the situation in the Middle East, the threat of terrorism, bilateral trade cooperation, investment, and cultural exchanges.
"We expect to sign a number of agreements and memoranda in the fields of media, trade and investment, infrastructure projects and transportation projects, such as electric trains. The presidential delegation will have an opportunity to see for themselves a plethora of investment opportunities in Egypt," she says.
Egypt and China have drawn closer in the past several years. Egyptian President Abdel Fattah al-Sisi visited China twice within 10 months in 2014 and 2015. Egypt was an active player in the second China-Africa summit held in Johannesburg in December. In 2014, the bilateral relationship was upgraded to a comprehensive strategic partnership, and this year marks the 60th anniversary of bilateral diplomatic ties.
In 2014, bilateral trade volume reached $11.6 billion, according to the Chinese government.
Amir says the two sides need to develop their relations in all fields, and more concrete actions need to be taken.
"We must fully translate our strategic partnership into concrete plans for both sides. As we can see now, China will participate in many projects in our country including energy, transport, and other infrastructure projects in the New Suez Canal region," he says, adding that Chinese companies are eager to take part in the plans.
Amir notes that Egypt has had a special economic zone in the mold of the Tianjin Economic-Technological Development Area, known as TEDA, for more than six years. But he says it has remained small compared with the plans for the New Suez Canal industry zones. Existing industrial zones, he says, would be incorporated into the bigger zones.................See more