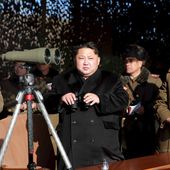 North Korean nuclear test suspected as 'artificial earthquake' detected
An earthquake that appears to have been man-made near a known nuclear testing site in North Korea was detected by several monitoring agencies. The United States Geological Service reported a 5.1 ...
http://www.theguardian.com/world/2016/jan/06/north-korean-nuclear-test-suspected-as-artificial-earthquake-detected
North Korea has conducted its fourth nuclear test, the country's state media has announced, in a move that could take it a step closer to developing nuclear warheads capable of striking the US mainland.
Some experts, though, said initial evidence was pointing towards a test involving a uranium or plutonium device and not, as Pyongyang has claimed, a far more powerful hydrogen bomb.
An announcement on North Korean television said the country had successfully tested a "miniaturised hydrogen bomb" underground on Wednesday morning, describing it as an "act of self-defence" against the US. North Korean claims about the size and type of bomb have not been independently verified.
If the claims are true, it would be the first time the North has successfully tested a hydrogen bomb and could also enable the secretive state to launch long-range nuclear missiles.
"If it's true, it means they've made something smaller scale, capable of being put onto a missile, said John Carlson, the former head of the Australian Safeguards and Non-Proliferation Office. "I think we can assume the previous tests they've carried out have been devices too large to fit onto a missile."
South Korea's spy agency believes the seismic wave reported was more likely caused by an atomic bomb, Lee Cheol Woo, a South Korean politician, said.
Yang Uk, a senior research fellow at the Korea Defence and Security Forum, said: "Given the scale it is hard to believe this is a real hydrogen bomb. They could have tested some middle stage kind (of device) between an A-bomb and H-bomb, but unless they come up with any clear evidence, it is difficult to trust their claim."
The North Korean state television broadcast said the test was a "complete success" which propelled the country into the "rank of advanced nuclear states". It had been overseen by the country's leader, Kim Jong-un and conducted ahead of his 33rd birthday this Friday.
"[North Korea's] fate must not be protected by any forces, only by [North Korea] itself," the broadcast said. North Korea would not abandon its nuclear weapons program as long as the US maintained what it called "its stance of aggression".
"The US has gathered forces hostile to DPRK [Democratic People's Republic of Korea] and raised a slanderous human rights issue to hinder DPRK's improvement," it said.
"It is just to have H-bomb as self-defence against the US having numerous and humongous nuclear weapons. The DPRK's fate must not be protected by any forces but DPRK itself."
The United Nations security council was planning to meet on Wednesday morning in New York to discuss North Korea's nuclear test, council diplomats said.
The White House said it could not confirm North Korea's claims, but added the United States would respond appropriately to provocations and defend its allies. The EU said the test was a "grave violation" of UN resolutions.
Phillip Hammond, the British foreign secretary, said on a visit to Beijing: "I think I can say that Britain and China are pretty much completely aligned on North Korean nuclear. We both strongly oppose the acquisition or testing of nuclear weapons by North Korea and we both want to see a resumption of the six party talks.