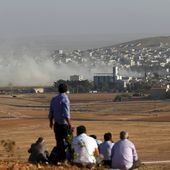 Shortly before Syria peace talks begin, Turkey infiltrates Syria
In what appears to be a well-planned strategic move committed in light of the upcoming Syria peace talks, a large number of Turkish forces crossed the border and entered the Syrian town of Jarablus
http://www.jpost.com/Middle-East/ISIS-Threat/Shortly-before-Syria-peace-talks-begin-Turkey-infiltrates-Syria-442167
In what appears to be a well-planned strategic move committed in light of the upcoming Syria peace talks, a large number of Turkish forces crossed the border and entered the Syrian town of Jarablus on Tuesday, according to Turkish media reports.

Eyewitnesses to the incursion reported that the Turkish forces have not encountered any resistance from ISIS fighters in the area. These reports once again raise the question of possible collaboration between Turkey and ISIS aimed at halting the advance of the Kurdish militias in north Syria.

Besides crossing into the border town of Jarablus which is part of the Kurdish enclave in northern Syria, Turkey carried out on Tuesday another move against the Syrian Kurds when it bombed the headquarters of the Kurdish forces of the People's Protection Units (YPG) in the Syrian border city of Tel Abyad.

These incidents come amid the approaching Syria peace talks that are scheduled to be held in Geneva on January 25. Russia's insistence on the participation of Kurdish representatives in the talks, claiming that Kurds are part of the Syrian opposition, may suggest that Turkey has committed these moves in order to signal to the Russians that they should take into consideration Turkey's interests in the Syrian quagmire.

In the past week, the tensions between Turkey and Russia that started in November, when Turkey shot down a Russian fighter jet that infiltrated its airspace, were running high again. President Recep Tayyip Erdogan delivered a speech in which he dismissed Russia's claims that its air campaign in Syria aims at defeating ISIS, and claimed that Moscow's true aim is to set up a "boutique state" in Syria's northwest.

Turkey's greatest fear regarding the Kurdish militias in Syria is that in light of their rapid advancement in the north, they will be able to link the Kurdish canton in Afrin to that in Kobani, thereby forming a united Kurdish state, loyal to the Kurdistan Workers Party (PKK), on Turkey's southern border.

US President Barack Obama and Erdogan spoke on the phone on Tuesday, vowing to continue collaboration against the PKK and ISIS. Given the US' consistent financial and military aid to the Kurdish militias, which are highly valued in Washington due to their persistent fighting against ISIS, it is hard to see the American administration supporting the recent Turkish moves.

Meanwhile, Syrian opposition factions are preparing for the Geneva talks. The Committee of the Syrian opposition gathered on Wednesday in Riyadh to declare which factions will take part in talks.
In a press conference following the gathering, the general coordinator of the committee's negotiation body, Riyadh Hijab, claimed that the opposition will not negotiate until the siege by the Syrian regime and Hezbollah on Syria's citizens is ended.