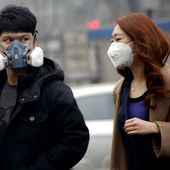 Beijing set to double air monitoring stations
A couple tackle the pollution in a shopping district amid heavy smog after the capital issued its first ever "red alert" for air pollution on Dec 8, 2015. [Photo/Agencies] China's capital will ...
http://www.chinadaily.com.cn/china/2016-02/23/content_23599774.htm
China's capital will almost double the number of air monitoring stations to give a better idea about the true state of the city's air quality, Xinhua state news agency said on Monday.
An extra 30 monitoring stations will be added to the 35 already in operation in places like schools, said Zhang Dawei, director of the Beijing Municipal Environmental Monitoring Centre. The stations will cover middle schools, mountainous areas and rural areas, and there will also be more monitor vehicles. Currently, the 35 existing stations monitor six categories of pollutants including PM2.5.
"After the upgrade ... we will have more data about the city's air quality," said Zhang.
The technical selection of the new monitor stations has been completed, though there is no timeframe for when the new stations would come online.
For Beijing and its surroundings, the government has set a target for 2020 of reducing pollution by 40 percent from 2013 levels. A senior environment official said on Friday the city's air quality has improved over the last two years.
The authorities have increased efforts to reduce air pollution in the wake of the city's first "red alerts" in December last year, when smog engulfed the city.