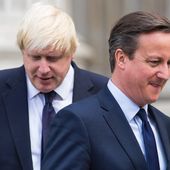 David Cameron ridicules Boris Johnson's 'second referendum' idea
David Cameron has delivered a blistering putdown to Boris Johnson's suggestion that he would campaign to leave the EU in the hope of getting a better deal with Brussels in future. The prime minister
http://www.theguardian.com/politics/2016/feb/22/david-cameron-ridicules-boris-johnsons-second-referendum-idea
David Cameron has delivered a strong putdown to Boris Johnson's suggestion that he would campaign to leave the EU in the hope of subsequently negotiating a better deal with Brussels.
The prime minister made a series of pointed comments aimed at Johnson as he gave a statement to the House of Commons on the EU referendum.
Having set the date for 23 June, Cameron made clear he was not standing for reelection and would campaign for Britain to stay in the EU because that was what he believed was best for the country.
Rolling coverage of all the day's political developments as they happen, including David Cameron's statement to the Commons about his EU renegotiation deal
Read more
He said the idea that there could be a second poll was "not on the ballot paper". The PM was referring to Johnson's proposal that the EU could start to negotiate properly if the UK voted to leave, paving the way for a second and final in/out poll.
Cameron dismissed this approach, saying: "For a prime minister to ignore the express will of the British people to leave the EU would not just be wrong; it'd be undemocratic."
In further remarks aimed at the London mayor, he said:
"On diplomacy, the idea that other European countries would be ready to start a second negotiation is for the birds."
"I won't dwell on the irony that some people apparently want to use a leave vote to remain."
"If the British people vote to leave, there's only one way to bring that about and that is to trigger article 50 of the treaties and begin the process of exit. And the British people would rightly expect that that should start straightaway."
"I have known a number of couples who have begun divorce proceedings but I do not know of any who have begun divorce proceedings in order to renew their marriage vows."
He said if British voters decided to leave it will be a final decision.
After Cameron's speech, Johnson stood up to ask the prime minister a brief question about how his deal returned any legal sovereignty to the UK.
The prime minister responded at length saying it had brought back some welfare powers, and some immigration powers, as well as a permanent carve-out from ever-closer political union. Johnson was heard to mutter "rubbish" at the answer.