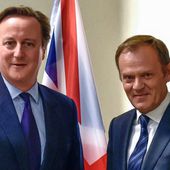 EU renegotiation: Tusk proposes migrant worker benefit cap
Britain would be able to request an emergency brake on in-work welfare benefits for EU migrants for up to four years subject the permission of other members states under proposals from Brussels to ...
http://www.theguardian.com/politics/2016/feb/02/eu-renogotiaion-tusk-proposes-migrant-worker-benefit-cap
Britain would be able to request an "emergency brake" on in-work benefits for EU migrants for up to four years, subject to permission from other member states, under proposals from Brussels to address David Cameron's demands.
The restrictions will not be an outright ban as originally demanded by Cameron but a "graduated" limitation to "take account of the growing connection of the worker with the labour market of the host member state".
Rolling coverage as European council chief publishes draft outcome of David Cameron's EU renegotiation, with snap reaction and analysis
The dense legal text summarising Britain's renegotiation demands was released by Donald Tusk, the EU council president, and will now be pored over in London and other EU capitals ahead of a summit of EU leaders on 18-19 February. Senior EU officials from all 28 member states will meet on Friday for their first discussion of the text, with the aim of paving the way for a deal at the summit.
If the UK gets a deal in February, an in/out referendum on Britain's EU membership is expected to be held in June, with one possible date the 23rd. But UK officials would not be drawn on timing on Tuesday morning following the release of the documents.
Tusk announced his proposals for "a new settlement" between the UK and the EU with a twist on Hamlet's famous line:
In a letter to all 28 EU member states, Tusk said his proposals went "really far" in addressing Cameron's concerns, but "he could not cross the principles on which the European project is founded".
"This has been a difficult process and there are still challenging negotiations ahead. Nothing is agreed until everything is agreed. I am convinced that the proposal is a good basis for a compromise."
Cameron welcomed the proposals in a tweet on Tuesday, ahead of a
speech giving more details about his EU strategy.
The prime minister's speech means he will not be in parliament to answer questions about it from his backbenchers, unimpressed with the deal on offer. David Liddington, the Europe minister, will be on hand to answer an urgent question from Jeremy Corbyn, the Labour leader.
One Tory MP, Andrew Rosindell, said the document was "underwhelming to say the least", while Steve Baker, leader of the Conservative Leave group in parliament, said it was "trivial".
The emergency brake could be requested by any member state but would have to be approved by the whole EU council, either by unanimity or a qualified majority vote.
The text also does not make clear how long this brake could apply for. It partially meets Cameron's demands for limits to benefits, but critics are likely to be unhappy with an effective veto by the EU council over the emergency brake.
There is also a draft declaration stating that the European commission considers the level of migration into the UK at a point where an emergency brake could be applied because the "type of exceptional situation that the proposed safeguard mechanism is intended to cover exists in the UK today".
Accordingly, the UK would be justified in triggering the mechanism in the full expectation of obtaining approval, the document says. UK sources said this means Britain could expect to get approval from the EU council for a four-year ban on in-work benefits.
Liam Fox, the Conservative former defence secretary and a supporter of the Vote Leave campaign, said a "very limited set of demands from our government have been watered down by the EU in every area".
He added: "'None of these changes even come close to the fundamental changes promised to the public. We are being asked to risk staying in the EU based on the back of empty promises from the EU that are not even backed up in a treaty."
The text also contains measures relating to all four areas requested by the UK – economic governance, competitiveness, sovereignty and social benefits.
Tusk is aiming for a legally binding agreement between EU leaders, avoiding time-consuming treaty change, but he says the EU should be prepared to consider treaty change in the future. He said: "To succeed we will all need to compromise. To fail would be compromising our common future."
The key points proposed by Tusk, which will need to be approved by all member states, are:
• Social security – an emergency brake on in-work benefits for up to four years if there is pressure on a particular member state, which would have to be approved by the EU council; child benefit would be indexed to the level of the member state where the child resides.
• Child benefit – Cameron's proposal to stop EU workers being able to claim benefit on behalf of children living abroad was also watered down. Instead, the UK will be able to alter the amount by taking into account the living standards in the country where the child is from.
• European integration – in an attempt to allay Conservative fears about "ever closer union among the peoples of Europe", Tusk offers a declaration that the UK is "not committed to further political integration into the European Union".
• Other immigration measures – member states can take further action against sham marriages and fraudulent immigration claims; member states can take action against citizens who represent a serious threat to security.
• Economic governance – British taxpayers' money can never be liable to support the eurozone; supervision of financial institutions in non-eurozone countries will remain a matter for their national governments. But the UK will have to pledge not to "create obstacles" to deeper integration in the eurozone, a clause aimed at meeting French demands that the British do not have a veto over measures to safeguard the single currency.
• Competitiveness – a clear long-term commitment to increasing competitiveness and taking concrete steps towards better regulation and reducing administrative burdens. The European commission is charged with setting targets for "reducing [the] burden" of EU regulation on business, although Tusk does not specify any policy areas.
• Sovereignty – a red-card system to allow national parliaments making up more than 55% of votes on the council to be able to veto EU legislation; spells out that "ever closer union" cannot be used to justify more political integration.