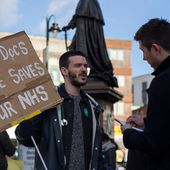 Junior doctors face forced contract after rejecting Jeremy Hunt's 'final offer'
Jeremy Hunt could impose a new contract on junior doctors after they failed to back the government's "best and final" offer. A deadline to accept the deal passed over Wednesday night. The ...
http://www.theguardian.com/politics/2016/feb/11/junior-doctors-face-forced-contract-after-rejecting-jeremy-hunts-final-offer
Jeremy Hunt is expected to announce talks to settle the junior doctors dispute have failed and a that new contract will be imposed from 1 August, setting the scene for renewed confrontation and the possibility of further strikes.
The health secretary will deliver a statement to the Commons at about midday on Thursday after the government failed to reach a deal with the British Medical Association (BMA), the union representing junior doctors.
A deadline to accept the deal passed on Wednesday night. The government's chief negotiator, Sir David Dalton, earlier warned this would mean talks had reached "the end of the road".
In a letter to Hunt, he said the BMA refused to compromise on its demand that all of Saturday working be paid at a premium rate and that it had failed to respond to a "best and final settlement". He said he was, therefore, advising the government "to do whatever it deems necessary to end uncertainty for the service and to make sure that a new contract is in place which is as close as possible to the final position put forward to the BMA yesterday".
Dalton added that the position was supported by both the NHS Confederation and NHS Providers as well as chief executives across the country.
Thousands of doctors returned to work on Thursday after staging a second 24-hour strike across England, which led to the cancellation of almost 3,000 operations. Hunt, backed by Downing Street, is expected to force on England's 45,000 junior doctors new terms and conditions that they claim are unfair for them and unsafe for patients.
The health secretary wants junior doctors – all doctors below the level of consultant – to accept working on Saturdays as part of a normal working week, to help bring about the seven-day NHS the government has pledged by 2020.
Two months of negotiations to resolve the dispute faltered this month when the two sides could not reach agreement, especially on the rates for Saturday working. BMA sources say the union is more likely to respond to the imposition of a contract with more industrial actions, including the possibility of an all-out strike, in which trainee doctors refuse to provide cover even in areas of emergency care, such as A&E and intensive care.
Some key activists are pressing for that to be their next move, though the union's leadership fear that would damage the strong public support the junior doctors have been enjoying.
Hunt claimed that turnout for Wednesday's second junior doctors' strike was lower than the first one in January, with 43% turning up for work. He denied that the government had rejected a "cost-neutral" offer from the BMA that would have resulted in doctors' basic pay rising by about half the 11% offered – in return for Saturday not being treated as a normal working day.
NHS England confirmed that the 43% figure included doctors who had never intended to strike, such as those working in emergency care. It said 43% of junior doctors – out of a possible 26,000 working on a typical day – had reported for duty on the day shift.
The BMA's junior doctors leader, Dr Johann Malawana, maintained that junior doctors remained overwhelmingly opposed to the new contract, with thousands of them attending 160 pickets, showing a "resounding rejection" of an "unfair contract".Combining junior doctors, other doctors and consultants, the data suggested 72% of the total workforce were in work, it said.
He added: "Junior doctors already work around the clock, seven days a week and they do so under their existing contract. If the government want more seven-day services then, quite simply, they need more doctors, nurses and diagnostic staff, and the extra investment needed to deliver it."
A YouGov poll suggested the public continued to back Wednesday's strike, blaming the government for failing to settle the dispute. Of those polled, 49% said junior doctors were right to take action and 31% said they are wrong. Similar figures were recorded in November. The poll found more people putting the blame on the government (45%) than the BMA (12%), while 30% blamed both.