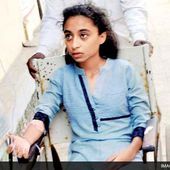 Murud Tragedy: Students Were Taking Selfies When A Wave Drowned Them
What was supposed to be a fun-filled daylong picnic at the Murud beach in Alibaug for a batch of 116 students from a Pune college, ended in tragedy after 14 of them drowned. The deceased were ...
http://www.ndtv.com/india-news/murud-tragedy-students-were-taking-selfies-when-a-wave-drowned-them-1272698
What was supposed to be a fun-filled daylong picnic at the Murud beach in Alibaug for a batch of 116 students from a Pune college, ended in tragedy after 14 of them drowned.

The deceased were identified as Rafiya Ansari, Shafiya Ansari, Sumaiya Ansari, Seefa Kazi, Supriya Pan, Sana Shaikh, Swapnali Salgar, Sajeed Choudhary, Iftekar Shaikh, Samreen Shaikh, Farin Sayyed, Yusuf Ansari and Rajlaxmi Pandugayala. However, Saif Madki's body is yet to be recovered.

Rescue operation
Commenting on the search and rescue operation, Naval spokesperson, Commander Rahul Sinha said, "We received information about 15 to 18 students being washed into the sea around 4 pm. Coast Guard aircraft IC117 and two hired fishing boats were deployed for search and rescue. So far, Coast Guard chopper ex-842SGN was launched at 6.03 pm and ICGS Achook has been diverted."

The incident
A total of 116 students from First, Second and Third-year BSc (Computer science), along with 11 faculty members, from Maharashtra Cosmopolitan Education Society's Abeda Inamdar College, Camp, had come to Murud for a picnic.

While a few of the students accompanied the faculty members, who decided to tour Tosalkar wadi, others decided to remain at the beach. But before leaving, faculty members warned them against venturing into the sea in their absence. However, once the professors left, a group of students ventured into the sea without checking the timing of the high tide. And before they realised it, all of them were swept away by the waves. Inspector Avinash Mane from Murud police station said, "An Accidental Death Report (ADR) has been filed in this matter."

Fortunate ones
Six students - including four boys and two girls - were lucky enough to be rescued. They were rushed to the local government hospital, a kilometre away from the beach.
Dr Pravin Bagul, medical officer at Murud government hospital, said, "Six students were rescued and 14 were brought dead. Survivors were given necessary medical aid and discharged. They are in shock and need counselling. We have informed the faculty members about this. All the six survivors then left for Pune."

Lucky escape
One of the rescued girls said, "Khuda reham kare aur hamare doston ko bachale (May Lord have mercy and save our friends). This was a bad picnic. The incident has scarred me for life. I'm thankful to God that I was rescued."

Another survivor added, "We reached Murud around 11 am. Though many of my classmates and other students wanted to swim, faculty members suggested doing so after visiting the fort and other tourist spots. We returned to the beach at 2 pm. While we decided to play at the beach, several of my friends ventured into the sea to click pictures and selfies. Around 3.30 pm, huge waves began lashing the beach. It was lunchtime, so all those who wanted to eat, gathered near the bus to collect their tiffin boxes. While those who were playing in the water, continued to do so. Before anyone could realise, a huge wave lashed the shore and pulled our friends deeper into the sea. Several others jumped into the sea to save them. Those who were pulled out were transported to the hospital on handcarts and in horse-carts, as the place lacked vehicles."

Eyewitness says
Santosh Rajankar, a local, said, "A group of over 100 students, along with their teachers, came in the morning in three buses. Initially, they visited the fort followed by Tosalkar wadi. Around 3 pm, a few of them ventured into the sea. It was time for high tide. The locals and their teachers had warned them against doing so, but they did not pay heed to their warnings. Around 4 pm, we heard cries for help and saw children waving frantically. A few of their friends had jumped into the sea to help them. Meanwhile, fishermen rushed to seas with their boats to save them and managed to rescue six of them."

College speaks
Commenting on the tragedy, college vice-principal Shailaja Bootwala said, "The incident is unfortunate and has shocked us all. It was just a daylong picnic. We have sent 30 staffers and 10 ambulances to assist those executing the search and rescue operation."
Speaking to mid-day, P A Inamdar, education society's president, claimed the tragedy could have been averted had there been lifeguards deployed at the beach.

Resign now
Matin Mujawar, member of Shikshan Hakka Manch, said, "Founder, chairperson and college principal of Abeda Inamdar must resign with immediate effect. Students lost their lives due to their negligence and we condemn this incident. College should take responsibility for the mishap rather than playing blame games."