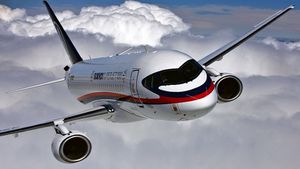 Russia is currently in talks with Egypt to supply the country's state-owned EgyptAir with 40 commercial jets as part of a deal with Sukhoi Civil Aircraft, Russian Industry and Trade minister Denis Manturov said on Wednesday.
"We are negotiating (with EgyptAir) the possibility of supplying up to 40 SSJ-100 aircraft," Manturov said in comments carried by TASS news agency.
Russia's United Aircraft Corporation (UAC) earlier planned to provide EgyptAir with 12 SSJ-100 jets with an option for 12 more aircrafts as part of a trade-in deal. A trade-in option for 15 Embraer-170 jets was also discussed with the Egyptian airline.
Manturov described the deal, also reported by official news agency MENA, as a "big ambitious project" which will ensure a boost his country's production capacities for the near future.
The Russian official's remarks on the multi-million dollar deal comes after Egypt and Russia signed a memorandum of understanding on Tuesday for the purchase of the jets.
Russia's state-owned Sputnik news agency said earlier this week that the Tuesday deal would include the supply of four Superjet passenger aircrafts to Egypt to transport tourists, with the option of six additional aircrafts.
Moscow halted all flights to Egypt, a popular destination for Russian tourists, after a Russian airplane crash in Sinai on 31 October killed all 224 people on board.
Russia and other western governments say a bomb brought down the flight. Egypt, however, said it has not found any evidence of foul play.
Militants affiliated with the Islamic State group say they had smuggled an explosive hidden in a soft drink can aboard.
Speaking after Tuesday's signing, Egypt's Civil Aviation Minister Hossam Kamal said he "expect[s] the resumption of Russian flights in the first half of the year."
Kamal said that the first batch of the aircrafts will be used domestically before carrying Russian tourists.