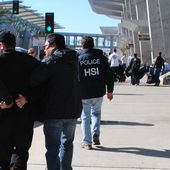 Seminary Student Sought Children Under 4 for Sexual Assault, Officials Say
A young seminary student from Ohio flew across the United States on Friday in pursuit of a goal he had spent weeks discussing online in explicit detail: finding a baby, either through adoption or ...
http://www.nytimes.com/2016/02/03/us/ohio-seminary-student-joel-wright-sexual-assault.html
A young seminary student from Ohio flew across the United States on Friday in pursuit of a goal he had spent weeks discussing online in explicit detail: finding a baby, either through adoption or cash purchase, to sexually assault.
The flight was the first leg of an itinerary that was to lead to Mexico, but the seminarian, Joel A. Wright, was arrested at San Diego International Airport before he could continue the trip.
Unbeknown to him, he had been trading emails with undercover federal agents.
Mr. Wright was arrested by Homeland Security Investigations, part of Immigration and Customs Enforcement, which said he had spent almost two years searching for female children under the age of 4 in Tijuana, Mexico, for a violent sexual encounter.
"This investigation opens a window into a secret world where sexual predators prey on young children around the globe," Dave Shaw, a special agent in charge of Homeland Security Investigations in San Diego, said in astatement.
Federal prosecutors charged Mr. Wright on Friday with felony counts of traveling with the intent to engage in illicit sexual conduct with a minor and aggravated sexual abuse of a child, according to the complaint.
The seminarian made his first court appearance on Monday in the United States District Court for the Southern District of California. He did not enter a plea and remained in custody, said Kelly Thornton, a spokeswoman for the United States attorney's office in San Diego.
Magistrate Judge Bernard G. Skomal appointed public defenders to represent Mr. Wright and scheduled a detention hearing for Thursday. Federal prosecutors filed a motion to keep Mr. Wright in custody, deeming him a flight risk and a danger to the community.
A preliminary hearing in the case was scheduled for Feb. 11.
Mr. Wright was studying to become a Roman Catholic priest at thePontifical College Josephinum in Columbus, Ohio. The Rev. John Allen, vice president of the college, described Mr. Wright as a "former student" and said the college was "shocked and saddened" to learn of the "heinous and reprehensible" crimes he had been accused of.
He said the seminary was eager to cooperate with law enforcement authorities in the investigation.
Mr. Wright began his search on the Tijuana section of Craigslist, where he posted an advertisement in 2014 looking for a child to adopt, according to a criminal complaint filed on Friday.
He traveled to Mexico that July after someone responded to the ad, offering him a child. But the response was part of a swindle: He met the person in a hotel and paid an "adoption fee," but the person never delivered. Mr. Wright returned to the United States alone.
The person in Tijuana was central to the investigation against Mr. Wright, according to law enforcement officials, who declined to provide details about that person's identity.
The seminarian and the con artist encountered each other on Craigslist again a year later, when Mr. Wright posted an ad looking for a tour guide in Tijuana. The person who had defrauded him, using a new email address, sent him a response.
During their correspondence, Mr. Wright said he was traveling to Mexico, in part to find a woman to marry and a child to adopt. Eventually, he said, he was interested in sexually assaulting female infants.
The person contacted the National Center for Missing and Exploited Children in Alexandria, Va., which forwarded the tip to the Department of Homeland Security.
The person handed control of an address to Homeland Security on Dec. 3, 2015, and agents continued the conversation with Mr. Wright. He wrote in graphic detail about his plans to adopt or "rent" female infants to sexually assault, according to the criminal complaint.
Those conversations continued for one week, during which Mr. Wright promised his online contact gifts of a vintage European military jacket, DVDs and a 4-year-old girl "after I finish," law enforcement officials said.
Investigators bought him a plane ticket to San Diego on Dec. 10, but he backed out at the last minute, the complaint said. He said he wanted no further contact with them.
But 18 days later, the seminarian was back on Craigslist. He posted another ad looking for a female tour guide in Tijuana. The same person saw it and replied again, using a third email address and posing as a guide.
Soon, their conversation turned to violent sexual assault of children, the complaint said.
In email passages reprinted in the criminal complaint, Mr. Wright discussed his sexual fantasies and said he planned to pay the parents of a baby girl so he could "adopt/own" her. "The cheapest baby girl under 3 would be good," he wrote.
Homeland Security assumed control of the email account again on Jan. 19. Ten days later, Mr. Wright boarded a flight to San Diego. He expected his online contact to pick him up at baggage claim. Instead, agents swooped in and arrested him.
Advertisement