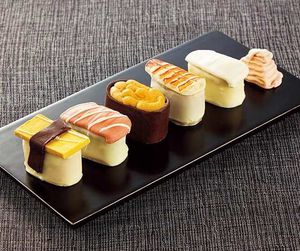 Japan has an uneven track record when it comes to celebrating Western holidays. While many people have started dressing up for Halloween only recently, one holiday that the country has wholly embraced Valentine's Day since the 1950s. Annually, women buy premium and in bulk, generating half the country's chocolate business being spent in February.
(Yes, that's mostly women. Men repay the confectionary favor on White Day a month later.)
While there are mountains of high-end choco tugging at the heart strings, many vendors are trying to stand out with unique packaging and offbeat designs. Here are a few tasty examples.
Sushi chocolate
If you want to give your partner a gift with a Japanese twist, why not go fishing for some sushi-shaped candy?
Instead of heading to Tsukiji's fish market, go west to Ikebukuro's Tobu Department Store where you can buy chocolate that looks like egg, shrimp and sea urchin sushi. The set, which costs ¥2,592, includes a dollop of mousse that represent the ginger gari.
Chocolate is girl's best friend
Takashimaya Osaka Store has morphed two favorite options: chocolate and diamonds.
The department store's new cake glitters as it's decorated with diamonds in addition to frosting. Youbetter be in love because the cake, encrusted with 125 diamonds, will set you back more than ¥14 million.
'Poisoned' apples
Kuromajutsu has a series of "poisoned" apples — but not any old "Snow White" types of fruits. The company claims it has injected "magic" into these apples using a Buddhist prayer that will, supposedly, make your victim, um, that is future spouse, fall in love with you instantly.
Kuromajutsu packages the ominous apple in a black box complete with the company's black cat logo. True love can be yours for just a bite — and ¥10,000.
Canned meat
Does your man lack a sweet tooth? Meiji has a savory solution by offering up the perfect canned meat for this Valentine's Day.
The company's web page recommends which canned meat would go well with the men in your life. For example, your hard-working co-worker who likes sake may prefer corn beef, while your red wine-drinking boss might like grilled chicken. We can't guarantee your Valentine will enjoy this gift, but it is sure to be memorable.
Monster cookies
At the event, people can ice monster-shaped cookies designed by textile artist Takehiro Natsuyama to create adorable and delicious treats.
Natsuyama wants guests to use his beastly cookies as a canvas and show them how to turn treats into works of art using only frosting and other toppings. Instead of keeping it a secret, you can make your Valentine's gift with your boyfriend this year at the Cookieboy workshop.
Jurassic Fossil Chocolat
Instead of searching for the perfect gift, you can make your boyfriend dig it up himself with an archaeological treat. Welcome to Jurassic chocolate.
Jurassic Fossil Chocolat by Maquis is a tasty set where people have to unearth the chocolate fossil hidden behind a layer of . . . more chocolate. The set even comes with a tiny hammer and brush to complete the prehistoric experience. Some of the buried dinosaurs include a T-rex, stegosaurus and brachiosaurus.
Yahoo! Japan's Valentine's Boy Field Guide
If none of these options sound appetizing and you're still unsure as to what kind of sweets to give your sweetie, Yahoo! Japan has a new site where you can (virtually) ask 25 different boys what their dream date and chocolate is.
After you input your lover's face type (dog, monkey, horse) and personality (herbivore, geeky, manly man), you can ask all of your burning Valentine's questions. It's a little unnerving watching this uncanny valley version of your boyfriend reveal his private thoughts, but his reaction is actually based on a scientific survey.
As you can see, Valentine's Day in Japan isn't just about chocolates and flowers. It's a big business, and companies will continue to reinterpret the day in new and sometimes terrifying ways.