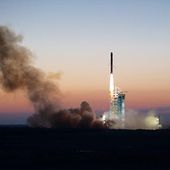 Aerospace industry to be worth $123b by end of 13th Five-Year Plan
A Long March 2-D rocket carrying the Dark Matter Particle Explorer Satellite blasts off at the Jiuquan Satellite Launch Center in Jiuquan, Northwest China's Gansu province, Dec 17 ...
http://www.chinadaily.com.cn/business/2016-03/28/content_24140679.htm
Carrier rockets, satellite applications and space broadband Internet will be the top prioritiesamong key aerospace projects which are expected to be launched this year, EconomicInformation Daily reported Monday.
According to industry expert, the three fields are the trends and core of the futuredevelopment of aerospace industry and are expected to reach 800 billion yuan ($123 billion)in terms of market size by the end of 13th Five-Year Plan (2016-2020).
An expert familiar with this matter told the newspaper that by the end of 13th Five-Year, Chinawill build a new generation of carrier rockets spectrum and a civil space infrastructure whichwill meet most of the needs of businesses in different fields.
The expert also said that China will finish the three-step plan of manned space flight and lunarexploration, and form an extensive satellite and application industry chain.
Xu Dazhe, the director of State Administration of Science, Technology and Industry forNational Defense, said that implementing key projects is the breakthrough for aerospacedevelopment. By realizing the projects China can power the research in space explorationand space science, and drive the application of space technology.
According to the newspaper, the overall output value of China's aerospace industry isexpected to exceed 500 billion yuan. Analysis shows that satellite application itself isexpected to reach 50 billion yuan by 2020.
According to a report by China Galaxy Securities, aerospace industry has high developmentpotential both in domestic and foreign markets. Compared to Western countries, China stillhas a long way to go even though it has captured a certain market share in internationalsatellite launch market. As aerospace industry becomes China's important strategic industryduring 13th Five-Year, its development will push ahead the transformation and upgrade ofmanufacturing industry.