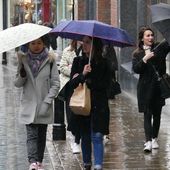 Easter weather: heavy rain and strong winds after sunny start
People in England and Wales have been warned to expect heavy rain and winds of up to 60mph on Saturday, followed by hail and thunder on Sunday. The fine start to the Easter weekend on Friday - with
http://www.theguardian.com/uk-news/2016/mar/25/easter-weather-heavy-rain-strong-winds-after-sunny-start
People in England and Wales have been warned to expect heavy rain and winds of up to 60mph on Saturday, followed by hail and thunder on Sunday.
The fine start to the Easter weekend on Friday – with sunshine, blue skies and temperatures of up to 15C in parts of the UK – was likely to be replaced overnight by rain and blustery weather moving in from the west.
The Met Office issued a yellow "be aware" warning, forecasting high winds in England and Wales on Saturday. This could disrupt the travel plans of about 6 million people who are hoping to make overnight trips or go camping over the weekend. Eastern England could be relatively dry until mid to late afternoon, according to forecasters.
The weather on Sunday is expected to be more mixed, said the Met Office's Tom Crocker, and though there may be some thunder and hail, they are unlikely to be widespread or severe.
More strong winds are expected on Monday, moving up from south-west England across the centre of the country towards the North Sea.