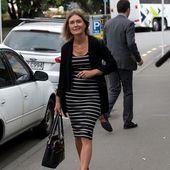 Judges 'living on planet dumb arse' - Louise Nicholas - National - NZ Herald News
New Zealand judges have been slammed as living on planet dumb arse by a prominent sexual violence advocate following a controversial decision not to convict a man who admitted to - New Zealand Herald
http://www.nzherald.co.nz/nz/news/article.cfm?c_id=1&objectid=11607445
New Zealand judges have been slammed as living on "planet dumb arse" by a prominent sexual violence advocate following a controversial decision not to convict a man who admitted to possessing child pornography.
The 40-year-old, who cannot be named for legal reasons, pleaded guilty to 47 charges of possessing child pornography in August of last year.
The married man was discharged without conviction in Wellington District Court in November, and the decision was upheld in a judgement released today.
Victims' advocate Louise Nicholas hit out at the decision, saying it made her sick.
"What planet do some of our judges come from....oh I know, planet dumb arse," she said on Facebook.
"Geez I'm sick of shaking my head with some of the outrageous comments and decisions these idiots make."
The father-of-two was caught after a USB stick containing sexualised images of children was found on a bus and handed in to police, who subsequently searched his home.
In total, police found approximately 2412 images and one movie, choosing 47 of the most disturbing images to base the charges against the IT consultant. The images were photographs of children engaged in a variety of sexual acts, including sexual violation of the children by adults, children engaged in sexual acts with other children, and children performing sexual acts on animals.
Police appealed the decision to let the man walk free at Wellington High Court last Tuesday but failed to convince Justice Rebecca Ellis.
In a judgement released today Justice Ellis said she found the case "difficult and finely balance" but ultimately believed a conviction would be "out of all proportion to the gravity of his offending".
"He has no previous convictions of any kind. He is a family man who is devoted to his two young children. He has formerly been the principal breadwinner.
"His own explanation for downloading the objectionable material was that it was fuelled by an obsessive-compulsive desire to collect and store images that were only rare and momentarily available on the website that he accessed.
"While this explanation is unusual, the analysis of it causes shows insight and is credible."
Police, represented by prosecutor Ian Auld, argued the original district court Judge Peter Butler, had carried out the balancing test during sentencing "incorrectly".
Mr Auld condemned the previous judge's claim of the nature of offending being at the "lower end of the scale".
But defence lawyer Mike Antunovic argued that his client had an obsessive compulsive disorder.
Claiming he simply stored them away "like a stamp collection".
He denied that his client gained any form of sexual gratification from the images found in his possession.
Justice Ellis pointed out in court that a psychologist had assessed the man as being addicted to pornography but not to children.
The police's failure to provide evidence to the contrary meant she agreed with the district court judge's decision, she said.
The court documents stated the IT consultant cooperated fully with police, admitted his offence and entered a guilty plea at an early stage.
He was assessed as being genuinely remorseful and revealed he attends weekly meetings of a 12 step addiction programme to address his addiction to pornography.
Justice Ellis added: "In this case, I consider it was open to the judge to reach the conclusion he did on the material before him. Indeed, I agree with him that it is self-evident that 47 convictions for possession of child pornography would essentially make it impossible for him to get a job in the IT field and would have devastating effects on his family.
"I do not for moment underestimate the terrible and lasting harm that is wrought by the child pornography industry and those who support it - whether by viewing, downloading, distributing or creating such material."