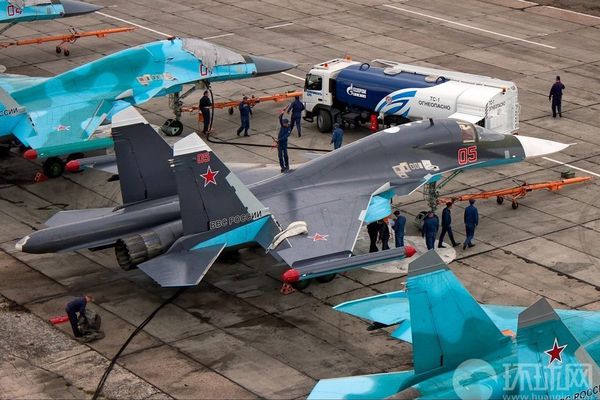 Russia hopes to sign a contract for Su-34 strike aircraft with Algeria later this year, with talks at an advanced stage, according to a Russian military-diplomatic source speaking at the Singapore Airshow.

"The related talks are ongoing and they have reached an advanced stage. The contract has yet to be signed," a high-ranking military-diplomatic source told Russia's TASS news agency. "They have been willing to get Su-34s for a long period of time. Previously, the aircraft did not have the export certificate. Now the appropriate documents have been obtained. I believe the contract will be signed in mid-2016 or definitely by the end of the year," the source told TASS.

"There is a mutual interest in the deal. Everything will be done this year."

Sergei Smirov, the director of the Novosibirsk Aircraft Production Association (NAPO) plant, which manufactures the aircraft, told Russian business daily Vedomosti on 30 December that talks had resumed on the export of Su-32 bombers (export designation of the Su-34) to Algeria after eight years of negotiations. He said that recently Rosoboronexport had received an official application to supply the aircraft. Around 12 to 40 are apparently being considered.

The Su-34 has been extensively used in Syria by the Russian Air Force, which has received 83 so far but is expected to sign up for another 100 or so in the next few years. An initial 32 were ordered in 2008, followed by 100 in early 2012. They will eventually replace the Sukhoi Su-24 strike aircraft. At least eight are believed to have been deployed to Syria.

Talk of a Su-34 order from Algeria comes after Algeria ordered 14 Su-30 fighter jets from Russia's Irkut, which will augment the 44 Su-30MKs the country has in service. Sergei Chemezov, the head of Russian defence technology holding company Rostec, said in September 2015 that the contract was signed near the beginning of that year. He said the Algerian aircraft would be delivered in 2016 and 2017.

Algeria received 28 Su-30s as part of a 2006 contract and another 16 under a 2010 contract. It appears the 16 aircraft in the second batch were delivered to replace 15 Mikoyan-Gurevich MiG-29SMT fighters Algeria returned to Russia after declaring them "defective."

At the Singapore Airshow, the military-diplomatic source told TASS that a number of countries have expressed interest in Russian combat aircraft, with China possibly receiving 24 Su-35S fighters this year for $2 billion, and Indonesia is in talks for Su-35S fighters as well.

Elsewhere, India may buy 40 more Su-30MKI multipurpose fighters for local assembly, especially due to ongoing delays with the procurement of Dassault Rafales. India has ordered 272 Su-30MKI fighters in total.