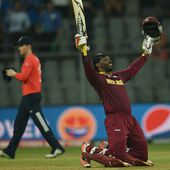 World T20: 'Have You Heard of Chris Gayle?', Darren Sammy Retorts in Response to Virat Kohli Threat
India will look to keep the winning momentum going despite losing Yuvraj Singh through an ankle injury ahead of Thursday's World Twenty20 semifinal against West Indies. ( West Indies Will Not Focus
http://sports.ndtv.com/icc-world-twenty20-2016/news/256991-world-t20-india-aim-for-momentum-darren-sammy-counters-virat-kohli-factor-in-semis
India will look to keep the winning momentum going despite losing Yuvraj Singh through an ankle injury ahead of Thursday's World Twenty20 semifinal against West Indies. (West Indies Will Not Focus only On Virat Kohli: Chris Gayle)
Yuvraj twisted his left ankle during India's victory against Australia in the last group match and Manish Pandey has been brought in as cover for the semifinal between the two former champions. (Lendl Simmons to Replace Andre Fletcher)
"It will have an impact, he's had his moments," India team director Ravi Shastri said about Yuvraj's absence.
Australia was off to a blistering start by hammering 54 off just 26 balls before Yuvraj pegged them back with his left-arm bowling and chipped in with 1-19 off his three tidy overs. He sustained the injury while batting before he was dismissed for 21.
Virat Kohli has virtually single handedly guided the 2007 champion to the semifinal with his two masterful half centuries in victories against arch-rival Pakistan and Australia. Kohli is the leading scorer in the Super 10 stage with 184 runs from four matches including an unbeaten 82 against Australia and 55 against Pakistan.
Openers Rohit Sharma and Shikhar Dhawan along with Suresh Raina are yet to flourish with the bat and it's Kohli's individual brilliance that has twice rescued India.
"You can't depend on one or two players, you need six or seven players to step up to the plate, it's not happened really in this tournament so far, let's hope tomorrow is the start," Shastri said.
India stumbled early in the tournament when New Zealand bowled them out for only 79 on a turning wicket at Nagpur.
The host then beat Bangladesh by only one run when captain Mahendra Singh Dhoni sprinted for the last ball run-out.
"We have played 70 percent to our ability in this tournament, so there's still 30 percent of areas where we can improve, let's hope it happens tomorrow because in a semifinal you've got to get your A game," Shastri said.
West Indies captain Darren Sammy wants his team to stay focused on its preparations instead of getting worried about Kohli's ominous batting form.
"Have you ever heard of Chris Gayle?" Sammy said while referring to his own swashbuckling left-handed opener.
Gayle set the West Indies' momentum in the tournament with his 47-ball century against England before Afghanistan broke the three-match winning sequence of Sammy's team with a stunning six-run win at Nagpur.
"We tend to focus on what we could do in our dressing room and like we've shown throughout the tournament once we execute our plans right we've won the games, when we've not, we've lost," Sammy said.
Sammy was happy to go into semifinal as underdogs, but reminded India his team was ready for the challenge.
"I think it's 80-20 to India," Sammy said with his usual broad smile. "It feels like David and Goliath, but people tend to forget David won the fight, so it's something similar to that."
West Indies has also called up Lendl Simmons after Andre Fletcher was ruled out due to a hamstring injury. Sammy hoped Simmons' experience of playing for Mumbai Indians in the IPL will benefit the team.
"He is a local boy although he won't be supported tomorrow," Sammy said. "He knows the conditions really well and he could come and be someone who could have an immediate impact on the game."