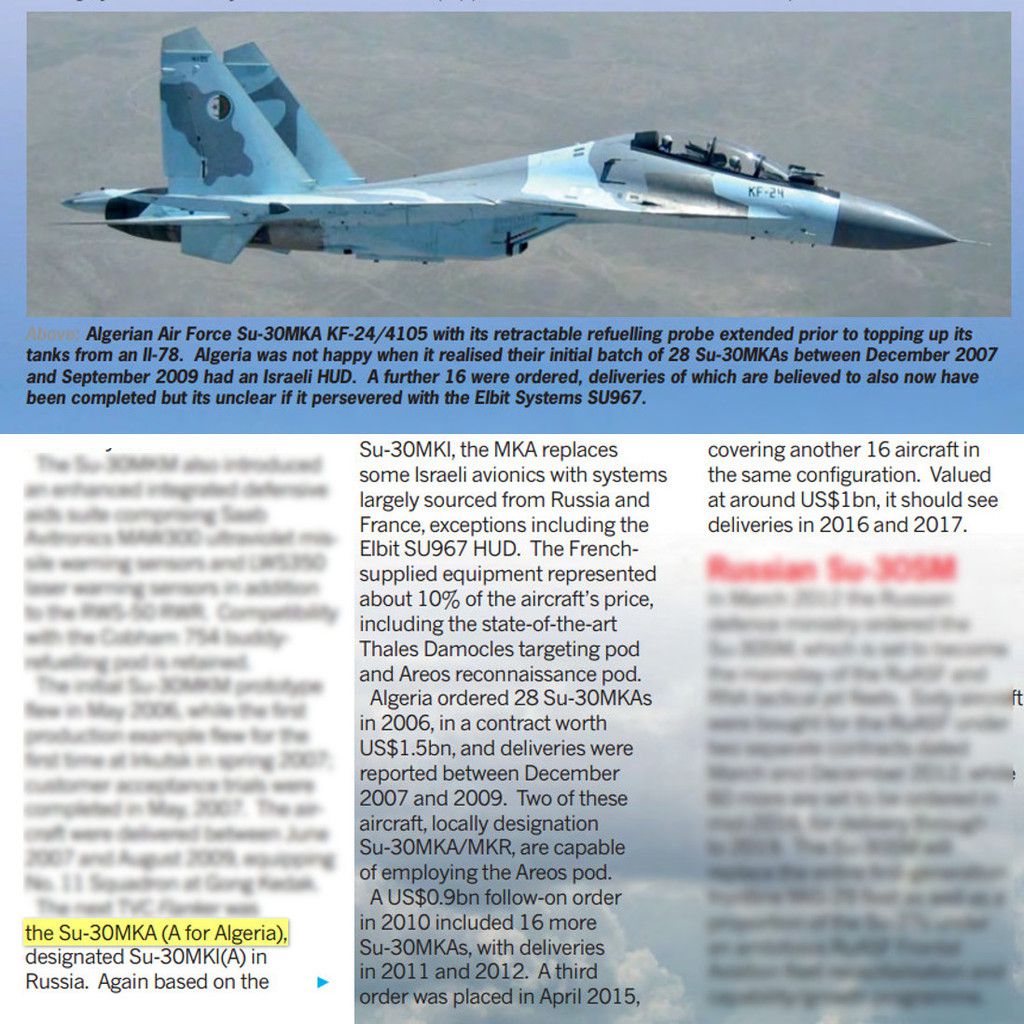 Algiers-Algeria May have signed a contract for 16 more SU-30 MK that's what have been filtred from a recent article of russian media Kommersant that's make the fleet of SU-30MKA operated by algeria to 60 (28+16+16). 8 SU-30 MKA are due to be delivred during algeria's PM visit in Moscow on 27 April 2015 and 8 before year end.
http://www.kommersant.ru/doc/2974227
Su-30MKI, the MKA replaces some Israeli avionics with systems largely sourced from Russia and France, exceptions including the Elbit SU967 HUD. The French- supplied equipment represented about 10% of the aircraft's price, including the state-of-the-art Thales Damocles targeting pod and Areos reconnaissance pod. Algeria ordered 28 Su-30MKAs in 2006, in a contract worth US$1.5bn, and deliveries were reported between December 2007 and 2009.
Two of these aircraft, locally designation Su-30MKA/MKR, are capable of employing the Areos pod. A US$0.9bn follow -on order in 2010 included 16 more Su-30MKAs, with deliveries in 2011 and 2012. A third order w as placed in April 2015, covering another 16 aircraft in the same configuration. Valued at around US$1bn, it should see deliveries in 2016 and 2017.
Сегодня премьер Дмитрий Медведев обсудит в Москве со своим алжирским коллегой Абдель-Малеком Селлялем совместные проекты в сфере энергетики и промышленности. Помимо этого, по сведениям "Ъ", в ходе переговоров будет затронуто военно-техническое сотрудничество, связанное с поставками в Алжир авиационной техники, а в перспективе и зенитных ракетных комплексов "Антей-2500".

Еще одной темой переговоров, по сведениям "Ъ", станет военно-техническое сотрудничество. Алжир входит в пятерку крупнейших покупателей российского оружия. Для этого в состав принимающей стороны был специально включен директор Федеральной службы по ВТС Александр Фомин. Официально этот пункт в повестке не афишируется, поскольку между странами действует соглашение о конфиденциальности. Однако, по словам источников "Ъ", стороны могут затронуть исполнение действующих контрактов (например, на поставку оставшихся 8 из 16 истребителей Су-30МКА в 2016 году), а также обсудить новые (на фронтовые бомбардировщики Су-32,истребители Су-35 и системы ПВО "Антей-2500").