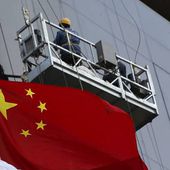 China Growth Slows; Revival Policies Appear to Gain Traction
DOW JONES, A NEWS CORP COMPANY News Corp is a network of leading companies in the worlds of diversified media, news, education, and information services. Industrial output, fixed-asset investment ...
http://www.wsj.com/articles/china-growth-slows-revival-policies-appear-to-gain-traction-1460687389
BEIJING—More credit and debt-fueled spending helped China ease a slide in growth, though the momentum may prove short-lived and risks exacerbating ills that have dragged on the economy for years.
After wobbling at the start of the year, the world's second-largest economy steadied in recent weeks to post first-quarter growth of 6.7% over a year earlier, according to government data Friday.
While a tick down from the 6.8% of the previous quarter, the pace appeared buoyed by signs of stronger economic activity as policies aimed at bolstering growth kicked in. Industrial output, retail sales, new loans and investment in factories, buildings and property rose faster than expected in March.
A concern, analysts said, is that the renewed vitality is being fueled by debt-led investment. That in turn could worsen many of the long-standing structural imbalances the government says it wants to correct—from rising corporate liabilities to overcapacity in industry and real estate—to put growth on a more sustainable footing.
"I don't seem much structural reform in 2016," said IG Markets Ltd. analyst Angus Nicholson. "The government is returning to the same old forms of growth."
ENLARGE
A case in point is real estate, which roared back to life in recent months after several years of glut-induced torpor. The property market's contribution to growth was 7 to 8 percentage points higher this past quarter, said Sheng Laiyun, spokesman for the government's statistics agency, after a media briefing.
Much of the activity, however, is concentrated in a few big cities, sparking concerns about potential speculative bubbles from officials, while most other urban areas remain overbuilt. "A country can be selling housing all the time, but it cannot build housing insanely all the time," Minsheng Securities said in a note that called property and infrastructure construction no panacea for the economy.
The better-looking data and the resort to tested methods reinforce the message carried by the Chinese leadership. At a political conclave in Beijing last month, the government committed to an average 6.5% growth annually for the next five years—a rate economists have said that a slowing economy can only reach with heavy spending. Leaders and officials at international forums have tried to project confidence in the stability of the economy and the currency.
Some of the conditions that rattled global markets over the past year have eased. The Chinese yuan, which depreciated unexpectedly in January, has steadied, and the capital outflows, which had whittled foreign-exchange reserves, lessened, in part due to tighter controls and expectations the U.S. Federal Reserve would hold off raising interest rates and strengthening the dollar. In March, the reserves grew for the first time in five months.
Economists said the first-quarter upturn is likely to peter out. Total social financing, a broad measure of credit that includes both bank loans and nonbank lending, reached a new historical high in the first quarter at 6.59 trillion yuan. Corporate bond issuance rose to 695.4 billion yuan in March compared with 544.6 billion yuan in January and February combined.
Having already boosted lending and pledged to front-load fiscal spending, Beijing is likely to take its foot off the gas once it is confident it can reach its growth target, which this year is set at a range of 6.5% to 7%.
"We still think that this recovery will not last very long," said Société Générale Group
economists Wei Yao and Claire Huang, in a research note. "But if we are wrong, beware of bubble risks, capital outflows and devaluation pressure on the renminbi."
China's economy is showing signs of stress. While investment in factories, buildings and other fixed assets grew 10.7% over the quarter, the rate was up 23.3% for state-owned firms and only 5.7% at private firms. China's state-owned enterprises tend to be less profitable; last year their profits fell 21.9%, compared with a 3.7% increase for private companies. And the government has made nurturing the private sector—and the job growth it brings—a priority.
Miao Linqing, founder of a landscape design company in the subtropical provincial capital of Nanning, said higher labor costs and lower demand trimmed his annual earnings to 100,000 yuan last year, half what he made a few years earlier. He said he is also having more trouble getting paid.
"Some local governments still owe me a lot of money," said Mr. Miao. "They pay you a bit at first, but don't come up with the rest."
Investment—which amounts to 46% of China's gross domestic product, compared with 20% for the U.S. and 31% for India—is showing signs of becoming less effective. More capital is being spent on servicing debt and many choice road, rail and other infrastructure projects that offer greatest returns have already been built.
Higher investment in property and infrastructure is also providing a boost to many of the industries that are beset by the excess capacity government has vowed to eliminate. Cement production rose 24% year on year in March compared with an 8.2% decline in January and February combined, while crude steel rose 2.9% last month, compared with a decline of 5.7% in January-February.