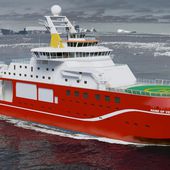 Boaty McBoatface may not be name of new polar research vessel
It might be the democratic will of the people, but RRS Boaty McBoatface will probably never weigh anchor, the government has signalled. The Natural Environment Research Council, which asked the ...
http://www.theguardian.com/environment/2016/apr/18/boaty-mcboatface-may-not-be-name-of-new-polar-research-vessel
It might be the democratic will of the people, but RRS Boaty McBoatface will probably never weigh anchor, the government has signalled.
The Natural Environment Research Council, which asked the public to vote on a name for its new £200m polar research vessel, confirmed on Sunday votes were overwhelmingly in favour of naming the state-of-the-art ship Boaty McBoatface. The suggestion received 124,109 votes, four times more than RRS Poppy-Mai – named after a 16-month-old girl with incurable cancer – which came in second place.
The chief executive of the NERC, Duncan Wingham, will have the final say in the naming of the boat, leaving him with a tense dilemma: delight the public and enrage the scientific establishment, or lose the goodwill the campaign has generated. Several PR experts have urged Wingham to keep the name to keep the momentum of public interest going.
However, Jo Johnson, the science minister, signalled the government was preparing to activate its get-out clause. "You won't be surprised to know that we want something that fits the mission and captures the spirit of scientific endeavour," he told the Daily Telegraph.
"I am grateful to everyone who has participated in the competition. The public has come up with some fantastic and very imaginative suggestions. We will come to a decision in due course."
Social media and science PR experts are divided as to how the NERC should respond to the poll.
"They should stick with the public decision," said Bob Ward, policy and communications director for the Grantham research institute on climate change and the environment at the London School of Economics. "If a new name is chosen, that is saying: 'We don't trust the public', but people would soon forget about it.
"On the other hand, if they keep the name, then the interest in the vessel will also endure. It doesn't have to be a problem for them. And it makes no difference to the vital work the ship will be carrying out, but it does mean there is likely to be more public interest in that work."
Advertisement
Other PR experts said the interest could be retained without having to give a boat a ridiculous name. Tom Sheldon, senior press officer at Science Media Centre, also emphasised how much the debacle had raised the organisation's profile. "Lots of people in science seem to see this as a bit of a PR disaster but I think the opposite," he said.
"The entire nation have been discussing a polar research ship. And they've all heard of NERC. How many other scientific research councils could they name?"
Sheldon said he did not think any goodwill would be sacrificed if a different name was chosen. "Even if NERC pick a name with more gravitas, I seriously doubt there will be any public indignation; we've had fun with this, and it will always be Boaty McBoatface to the nation," he said.
"Presenter Evan Davis signed off the BBC2 flagship news programme with Newsy McNewsnight. There is now a horse called Horsey McHorseFace. It even featured on Channel 4's Gogglebox. It's captured our attention, made us laugh, and spawned a new meme. How many science public engagement exercises can you say that about?"
Michael Tinmouth, a social media strategist who has worked with brands such as Vodafone and Microsoft, said he did not expect to see a glass of champagne being broken over the bow of Boaty McBoatface any time soon, but also urged the NERC to own the story.
"It's a childish name, so it's an opportunity to engage with a younger generation," he said. "If I was them, I would get a team of designers and brand experts together and do something like develop a cartoon or a project for younger children which features a character called Boaty McBoatface, even if the boat isn't actually called that.
"I think the worst way to handle it would be to ignore it, but to be fair to the PR team behind it, they haven't yet completely slammed the door shut and they should seize the opportunity."
Ward said he hoped the NERC would not be deterred from public engagement by this saga. "Some of the biggest science stories in recent years have been through making scientific discoveries into public events, like space shuttle launches or the [Large] Hadron Collider, where there was a real sense of theatre.
"The work it will be doing on its voyages looking at impact in the polar region could also be made into a real event, with some imagination."
Most experts agree the name is a lucky choice in one way. "It certainly would ruffle a few feathers in the traditional scientific community, but there's nothing offensive about it," Ward said.
The name was first put forward by former BBC radio presenter James Hand, who expressed surprise at the furore Boaty McBoatface has caused.
Hand said while he stands by Boaty McBoatface as a "brilliant name" for the research ship, he voted for RRS David Attenborough, which came in fifth with 10,284 votes. Another less serious name – RSS It's Bloody Cold Here – came fourth in the vote.