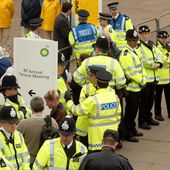 BP pledges to address shareholder anger over CEO's £14m pay as AGM starts
BP's chairman has told the oil company's AGM it will respond to shareholder concerns about the near-£14m pay package awarded to chief executive Bob Dudley. Related: BP boss faces shareholders angry
http://www.theguardian.com/business/2016/apr/14/bp-pledge-shareholder-anger-ceo-bob-dudleypay-deal
Shareholders sent a warning through Britain's boardrooms at the first annual general meeting of the season by voting by a massive majority against bloated executive pay packages at BP.
Almost 60% opposed the remuneration report from the oil group triggered by a £14m payout to chief executive Bob Dudley - the second biggest reverse of its kind at a large company.
Simon Walker,
BP shareholders have voted against the company's remuneration report in protest at the £14m pay package for its chief executive, Bob Dudley, in one of the biggest revolts ever at a UK annual general meeting.
Almost 60% of votes cast at the meeting opposed the remuneration report. The vote is non-binding, and Dudley will still get the bumper payout, which was awarded in a year when the oil company ran up its worst ever losses of $6.5bn. It will, however, force BP to respond to its shareholders' anger.
Before the vote was published, BP's chairman, Carl-Henric Svanberg, told the meeting that the board would listen to shareholders' views, indicating there was trouble ahead. When the votes were announced, 59.11% had opposed the remuneration report.
A shaken Svanberg said the result, one of the biggest ever investor pay rebellions involving a FTSE 100 company, was advisory but accepted "it does not make it any less important".
Read more
He said BP would now discuss pay with investors to come up with a new remuneration policy in light of unhappiness over Dudley's pay.
"We know already from the proxies received and conversations with our institutional investors that there is real concern over the directors' pay in this challenging year for our shareholders," he said.
"On remuneration, the shareholders' reactions are very strong. They are seeking change in the way we should approach this in the future.
"Let me be clear. We hear you. We will sit down with our largest shareholders to make sure we understand their concerns and return to seek your support for a renewed policy."
During the AGM debate preceding the vote, a procession of investors stood up and lambasted BP over pay, with their interventions receiving applause from the audience.
Their anger was mainly directed at Dudley's pay package. One shareholder described the pay award at a time when the rest of the country was going through austerity as a "PR disaster".
Captain Hawker said he had previously supported major pay increases for BP bosses, but said it was inept to do so now. "It is not the time to increase directors remuneration," he said.
A representative from the Church of England pension board asked "whether this level [of pay] is morally right"? He went on to question how much one executive needs to be incentivised.
Another small shareholder, Phil Barker, said it was astonishing that Dudley was incentivised in relation to BP's safety record "when it should be inculcated in his job".
Ann Dowling, the chair of BP's remuneration committee, attempted to answer the criticism and promised she would come back next year with a new formula for assessing pay.
She defended the general level of pay at BP, saying it was "somewhere in the middle" of what other companies of a similar nature paid. "We have to reward people appropriately to attract the talented employees who are important for the future health of the company," she said.She insisted, however, that Dudley's pay deal was merited on the basis of the existing formula "although clearly not all shareholders will agree with this".
Roger Lawson, the deputy chairman of ShareSoc, the small shareholder's group that opposed Dudley's pay, said: "They need to totally review Mr Dudley's remuneration package, rebase it and redesign the bonus and LTIP [long term incentive plan] arrangements. That's the only real solution.
Read more
"They can try to get away with fiddling with it but it depends how forceful the institutional investors they talk to are. In my experience the concessions you get after a company loses a remuneration vote are not very large. They say: 'We've listened to shareholders and changed this and that' and hope they can squeak it through next year'."
The BP rebellion is one of the largest to have taken place. Two years ago, 52% of investors voted against what they regarded as an over-generous pay package for Christopher Bailey, the chief executive and design chief at the fashion brand Burberry. He had been handed shares worth £15m.
Other big protest votes include a 59% vote against a vast pay package for WPP advertising boss Sir Martin Sorrell in 2012. Sorrell has been paid more than £150m since 2010.
The biggest ever pay protest at a leading company was in 2009 at Royal Bank of Scotland, where there was an 80% rebellion after the government voted its stake in the bank against a £703,000 a year pension payment for the bank's disgraced boss, Fred Goodwin.Also in 2012, 67% of shareholders voted against the directors' pay plans at the Pendragon car dealership.
In the runup toits AGM, BP has faced criticism from institutional shareholders, small investors and the Institute of Directors over Dudley's pay. His total earnings rose 20% to $20m (£14.1m) despite BP recording its worst ever annual loss of $6.5bn in a year when oil prices tumbled.
Simon Walker, the director general of the IoD, said the enormous pay deal for 2015 sent the wrong message to investors and other boards, given the annual loss and the decision to axe 7,000 jobs.