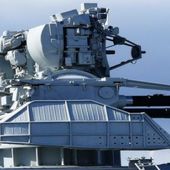 India's Vikrant Aircraft Carrier Could Get Russian Weaponry | Indian Defence News
Russian Kashtan Close-in Weapon system (CIWS) is a modern Naval air Defence System, considered to be the best in the World, could be the ideal system for INS VIKRANT KUALA LUMPUR: Russia could ...
http://www.indiandefensenews.in/2016/04/indias-vikrant-aircraft-carrier-could.html
KUALA LUMPUR: Russia could supply air defence systems and other equipment to the Indian Vikrant-class aircraft carrier currently under construction, the head of Russian conglomerate Rostec said.
Viktor Kladov, head of the International Cooperation Department of Russia's state technology corporation Rostec, said: "Guidance systems, air defence systems, as well as various systems of airborne weaponry, including anti-aircraft, could be supplied on board the aircraft carrier. An aircraft carrier is a vast platform and we have something to offer to our partners," Kladov told RIA Novosti in an interview, Sputnik News reported.
The first of the Vikrant-class aircraft carriers, the INS Vikramaditya, is Russian-built.
The second vessel of the class, INS Vikrant, is set to become India's first indigenous carrier. However, according to Kladov, India still needs Russia's technical assistance in various aspects of the INS Vikrant project.