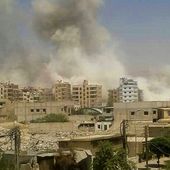 ISIS has massacred 175 of the 300 cement workers in Syria
175 of the 300 cement workers feared to have been executed by ISIS Extremists seized the labourers from an area to the northeast of Damascus Taken near spot where militants had launched an assault ...
http://www.dailymail.co.uk/news/article-3529698/ISIS-massacred-175-300-cement-workers-kidnapped-outside-Syrian-capital-Damascus-government-claims.html
ISIS has begun releasing 170 cement workers it kidnapped outside Damascus, human rights group claims – contradicting reports that the civilians had been executed
ISIS fighters have released the first of the 170 cement workers kidnapped from just outside Damascus - contradicting government claims that they had been executed.
Extremists seized the labourers from an area close to the town of Dumeir, northeast of the capital, earlier this week.
The kidnapping sparked a war of words between the two sides - with the jihadi group's media arm saying the workers were unhurt, while the state's military claimed they had been massacred in their dozens.
Now the British-based Syrian Observatory for Human Rights monitoring group has stepped in, saying local municipality officials in two nearby towns managed to secure an agreement for IS to release 170 workers it had been holding since Wednesday.
ISIS fighters have reportedly executed 175 of the 300 kidnapped cement workers outside the Syrian capital Damascus, according to the state's military (file picture)
The workers and contractors of Al Badia Cement company were taken from near the town of Dumeir and their employer had lost all contact with them, the industry ministry is quoted as saying.
Earlier reports claimed a source in the company told state-run news agency SANA that there has been no success in efforts to establish contact with any of the workers.
SANA said 'employees and executives of the Al-Badia cement factory' were abducted by the jihadists, after local residents reported that at least 250 workers at the plant had been missing since Monday.