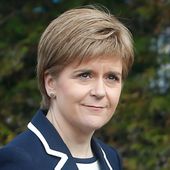 Nicola Sturgeon's tax plan will cost Holyrood £900m, says IPPR
The battle over tax policy in Scotland has taken a further twist following an independent forecast that found Nicola Sturgeon's refusal to increase rates for the rich would cost Holyrood up to ...
http://www.theguardian.com/politics/2016/apr/13/nicola-sturgeon-tax-plan-holyrood-ippr-snp
The battle over tax policy in Scotland has taken a further twist following an independent forecast that found Nicola Sturgeon's refusal to increase rates for the rich would cost Holyrood up to £900m.
An analysis by the Institute for Public Policy Research (IPPR) estimated that the first minister's plans for modest tweaks to income tax in Scotland would increase Holyrood's revenues by only £300m a year in real terms by 2021.
The IPPR data showed that the proposal would raise far less than Scottish Labour's plan for a 50p top rate alongside other increases across most other bands which would raise between £1.1bn and £1.2bn annually in extra revenues after five years, by increasing taxes for the richest by nearly £2,000 a year.
The data led to a clash between Labour and the SNP after John Swinney, the Scottish finance secretary, claimed the IPPR's figures established that Scottish Labour's plans would mean a "tax grab on the poorest". That was a "betrayal of Labour values", he added.
Swinney's reaction was based on an IPPR chart appearing to show that Labour would slightly increase taxes for the 10% of people earning the least. The IPPR said that that increase was so low, being £2 a year or four pence a week, that it had classed the percentage as 0% for that group.
Jackie Baillie, Scottish Labour's finance spokeswoman, urged Swinney to retract his comments. "The SNP are so desperate to justify not taxing the richest more they have descended into issuing false statements about impartial analysis from an independent thinktank," she said.
Further intensifying the pressure on Sturgeon to revisit her tax proposals, the IPPR said that the Scottish Green party's plans – including a cap of a 60p tax rate for highest earners – could raise up to £650m a year more than the SNP scheme.
The IPPR warned, however, that it could be only £300m a year more if the 60p rate failed to raise revenues from the additional rate due to some of the wealthiest taxpayers leaving Scotland to avoid it – a possibility the Scottish Greens accepted was plausible. The IPPR said Labour's 50p plans could also have the same tax-flight effect, generating up to £100m less than it wanted.
The Lib Dems' proposals, which also include a 50p top rate, would raise £450m more in real terms than SNP plans by 2021. By contrast, only the Tories' proposals to retain current UK rates would leave tax revenues lower than the SNP's, raising no extra money at all and leaving the rich better off.
The IPPR analysis, based on current proposals for the May Scottish parliament election, assumes that none of the parties revise their tax proposals after Holyrood gains nearly complete control over income tax rates and bands in April 2017.
It is also based on comparing their existing proposals with the prediction that George Osborne will increase the 40p tax threshold for the rest of the UK to earnings above £50,000 by 2020-21.
After the SNP surprised many by offering taxpayers on the 40p band a tax cut and failing to increase taxes for those on the 45p rate, Sturgeon appeared to backtrack by insisting she might yet introduce the 50p rate she promised in last year's general election.
Patrick Harvie, the Scottish Greens' co-convenor, told party activists at their Holyrood manifesto launch on Tuesday that he had been dismayed by Sturgeon's timidity. "Frankly I'm slightly astonished that the Scottish National party do seem to have walked away from the space to debate progressive tax policy," Harvie said.
Labour has also been caught out over its income tax proposals, by dumping an original pledge to reduce taxes for the lowest paid from next April in line with a current proposal to give those earning under £20,000 a £100 rebate.
Instead, next year it will copy plans of Osborne's to increase the personal allowance. That will mean those earning more than £17,000 will pay slightly more in Scotland than the rest of the UK; Labour insists they would be compensated indirectly by better funded public services for all.
Swinney insisted that the IPPR report confirmed that the SNP was the only party helping to protect voters' incomes and public spending, effectively presenting the SNP as the most moderate, cautious party in the election. "This report shows that it is only the SNP that are putting forward balanced, reasonable and fair tax proposals that will support public services like our NHS while protecting households budgets," he said.