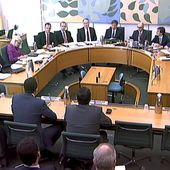 Tata Steel UK boss warns of pension timebomb if buyer not found
Britain faces an "economic and social disaster" if the pension issues facing Tata Steel UK cannot be solved and a buyer is not found, the boss of the steel company has warned. Bimlendra Jha, chief ...
http://www.theguardian.com/business/2016/apr/28/tata-steel-uk-boss-warns-pension-timebomb
Britain faces an "economic and social disaster" if the pension issues facing Tata Steel UK cannot be solved and a buyer is not found, the boss of the steel company has warned.
Bimlendra Jha, chief executive of Tata Steel UK, told MPs there would be "very bad consequences for the taxpayer" if the pension liabilities of almost £15bn facing the business are not dealt with.
However, Sajid Javid, the business secretary, insisted there "isn't a big risk to the public purse" from the pension liabilities.
Javid and Jha were addressing the business, innovation and skills committee as they investigate the demise of the UK steel industry. About 40,000 jobs are at risk after Tata Steel announced last month that it planned to withdraw from its UK operations, including the Port Talbot steelworks.
The business secretary admitted that "with the benefit of hindsight" he should have gone to Mumbai in late March for a Tata board meeting that concluded it should sell its UK business, rather travel to Australia on a business trip with his daughter.
Javid said he was told in mid-February by Tata executives that they were considering whether to close Port Talbot, but admitted he was shocked by the Indian company's announcement because of the speed with which they wanted to offload the UK business.
The Tata Steel UK boss said the company had set no fixed deadline to find a buyer, amid concerns that there may not be enough time to find a saviour.
However, Jha warned that Tata "cannot continue to bleed" and that there remained "serious questions marks about the viability of Port Talbot".
He said solving the pension problem was key to finding a buyer. Tata Steel has been pumping more than £100m a year into the pension scheme to fund its liabilities. The scheme could enter the state-backed Pension Protection Fund.
Jha added: "If we don't solve it we are staring at some very bad consequences for the taxpayer. We are staring at a huge economic and social disaster."
However, he also opened the door to Tata Steel keeping the business if it could narrow losses at the UK arm, which are believed to be about £1m a day.
"We would not be selling the business if we were not losing money," said Jha, adding that the UK had structural weaknesses around energy prices and business rates.
The Tata boss said the company did not want to split up its UK business by selling it to different buyers. He warned that splitting off Port Talbot would cause damage to the pension scheme because more than 4,000 workers would stop making contributions. "We would not deal with somebody saying leave alone Port Talbot and give us the rest. That is not a solution that's acceptable," Jha said.
Javid is facing heavy criticism for his handling of the steel crisis, with Iain Wright, chairman of the committee, saying it is an "absolute disgrace" that the Redcar steelworks was allowed to close last year.
However, the business secretary hit back, saying: "It is easy to make those statements, but we have to deal with the reality, the facts."
Javid said: "I will do everything in my power to help, but that is all I can do. I cannot change the price of steel globally. This is a big economic challenge for the country. I don't want to live in a country where we have to import all our steel.
"For the thousands of steelworkers and their families and friends affected by this, the message is that we are doing everything we can."
He admitted that the government was looking for solutions for the pension scheme, with talks under way between trustees of the British Steel Pension Scheme and the Pensions Regulator.
"A number of the potential buyers have said that 'we won't have much interest if we have to take over the current pension plan as it is'," he told MPs. "It's a very big plan, it's expensive compared to today's plans and it's not unreasonable for many buyers to say 'look we're interested in the assets but this would be an issue'."
Javid, who has said the government is willing to take a 25% state in the steel business alongside a buyer, said he believed Tata was a "responsible" seller despite the tight timeframe.