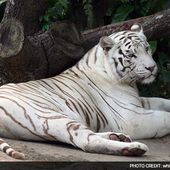 World's First 'White Tiger Safari' In Madhya Pradesh Thrown Open For Public
Madhya Pradesh Chief Minister Shivraj Singh Chouhan today inaugurated the world's maiden 'White Tiger Safari' at Mukundpur in Satna district in the state's Vindhya region where the feline was first
http://www.ndtv.com/india-news/worlds-first-white-tiger-safari-in-madhya-pradesh-thrown-open-for-public-1326564
MUKUNDPUR, MADHYA PRADESH: Madhya Pradesh Chief Minister Shivraj Singh Chouhan today inaugurated the world's maiden 'White Tiger Safari' at Mukundpur in Satna district in the state's Vindhya region where the feline was first discovered more than 100 years ago.

The first of its kind safari has cost Rs. 50 crore and is spread over an area of 25 hectares.

Union Environment Minister Prakash Javadekar, Steel and Mines Minister Narendra Singh Tomar, Chief Minister Chouhan and lawmaker's Public Relations and Energy Minister Rajendra Shukla, among others, dedicated it to the public.